'I really like it. It looks beautiful, the colours are lush and it's a refreshing perspective on the world. I love the idea of excellent dates engaging with Pliny's figs and mushrooms, your thought provoking note on innocence, and the concept of the songs of men deep in the heart of grape buds' – Nicki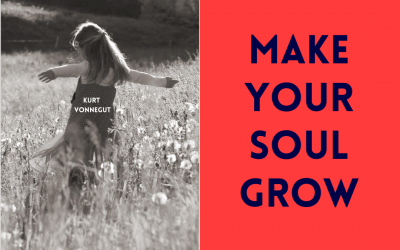 A warm and wise letter written by Kurt Vonnegut in 2006 in response to one received from a class - and its teacher Miss Lockwood - at Xavier High School. It gives nuannaarpoqian advice to young minds (and to Miss Lockwood), and is here read out charmingly by the actor...
read more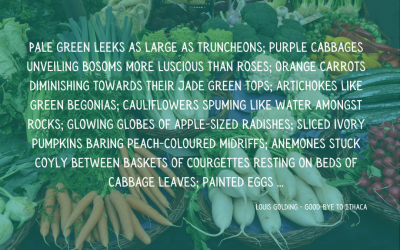 You may have noticed that I love basket-bursting, banquet-spread descriptions of food.  However, while meals can be sumptuously presented, market...
read more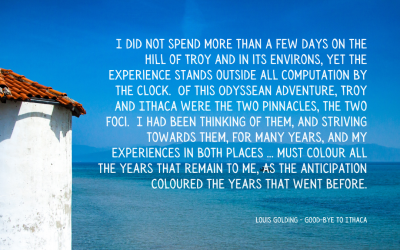 Golding took thirty years to complete his own odyssey from Troy to Ithaka, with war and other events intervening between his first attempt, in which...
read more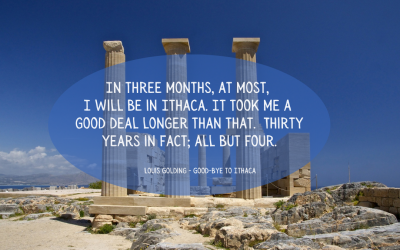 Golding, sailing past the island of Ithaka, thought he would return and land within a few months.  Then war and life intervened, and it took him...
read more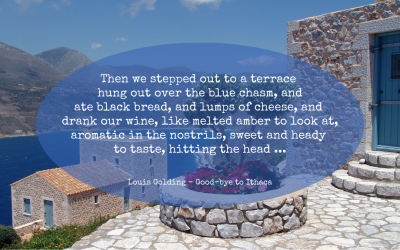 It is unbelievable how good bread and cheese can taste, washed down with some form of liquid amber, when you are on a terrace over a blue chasm, or...
read more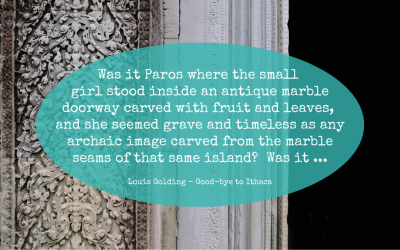 Golding sails from island to island on a land and sea alternating odyssey, and at some point, overwhelmed by enchantment, his memory of moments...
read more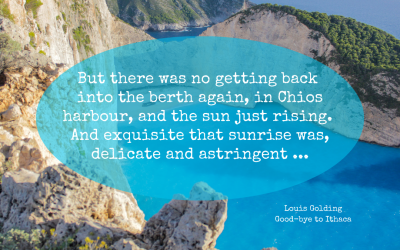 What a dazzling description of watching a sunrise from a ship, contrasted perfectly with a preceding sunset.  The miracle of both, eternal and...
read more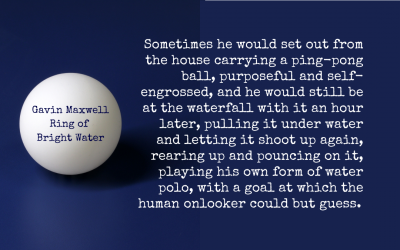 The capacity of otters to play and to turn anything they find into a game, is breath-taking.  Here is one, having worked out the ludic possibilities...
read more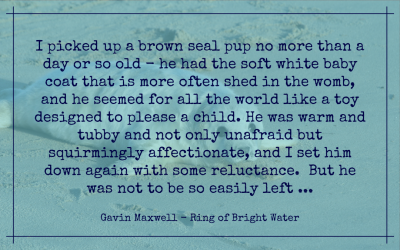 An astonishing account of a newborn seal pup responding to a passing cuddle from a human.  I liked too that in the end his mother's love, even in a...
read more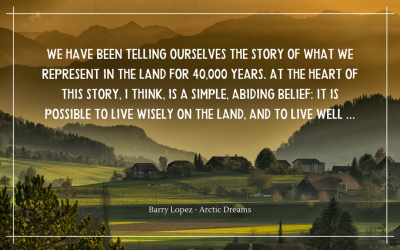 Isn't this all we're trying to do when we talk about 'sustainability', 'circular economy', or climate change?  When it's put so simply, it sounds...
read more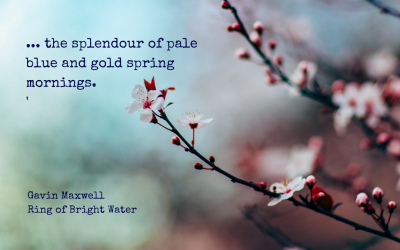 Spring mornings, perfectly wrapped up in two glowing hues.   And here, enjoy another evocative combination of blue and gold. ... the splendour of...
read more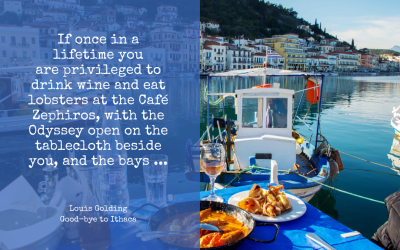 Golding describes a moment, a scene, on the island of Corfu, experienced during his own odyssey in search of Ithaka.  I like that he wants us to...
read more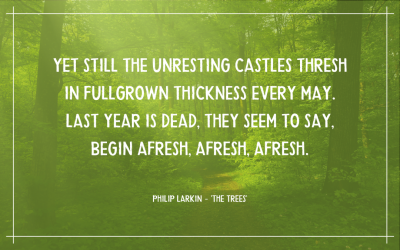 A soughing sense of spring surging in the dense-leaved trees.   You can hear the branches, brushing against each other in the dancing breeze,...
read more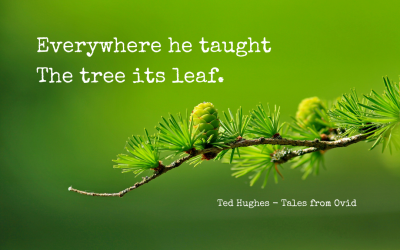 A step in the process of creation, where the Creator takes a moment to teach the tree its leaf.  They learned well, and this is the season we see...
read more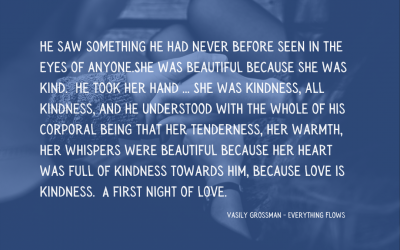 After decades in a concentration camp, this man finds love in kindness.  After being released from the clutches of the gulag, he rents a room in the...
read more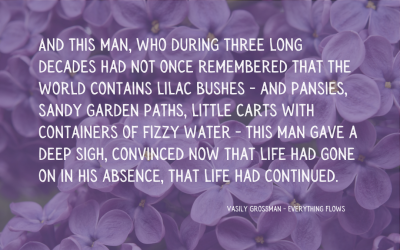 This man is one who returns from the dead, from decades in a gulag in Siberia, released during one or another political thaw.  He returns to...
read more
Or if you'd like to get in touch ...
Copyright: www.nuannaarpoq.com – Beatrice Otto 2022 – design and content, all rights reserved.  
Colours & fonts chosen for aesthetic strength and because their names reflect the mission of nuannaarpoq.com.  Colours: menu, header & text box: Warm Welcome by Quete80   I   footer: Be Happy by OrendaWhisper.  Fonts: sans serif: Ubuntu   I   script: Spirit of Dance by Vera Holera   I   serif: Lustria