Bea, your web site is spectacular. I love the colors, the approach, the design, the words.
Nancy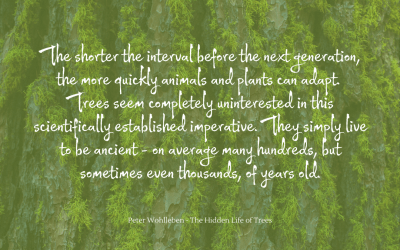 Long live trees. I love this observation by a dendrologist who has brought to our attention the hidden life and communication of trees. I also love that trees operate on their own timescale and in so doing display an apparent disinterest in a 'scientfically...
read more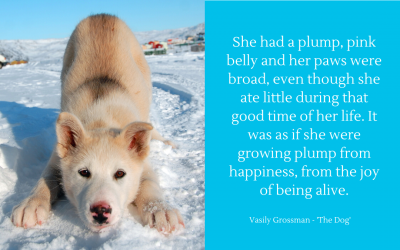 Another beautiful description of a young dog's capacity for joy and playfulness, even when hungry and abandoned. Vasily Grossman seems to have had a particular sensitivity to animals and appears to convey the deeper reverberations of their souls.  Whether this is...
read more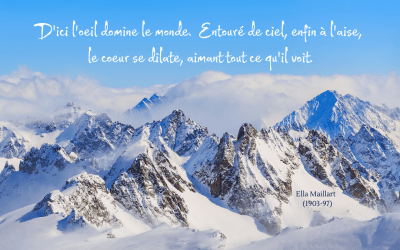 The Swiss explorer and travel writer, Ella Maillart (1903-97), spent the second half, or third age, of her adventurous life in the Alpine village of Chandolin at 2,000 metres. We spotted this quotation during a walk through the snow, on an engraving featuring the...
read more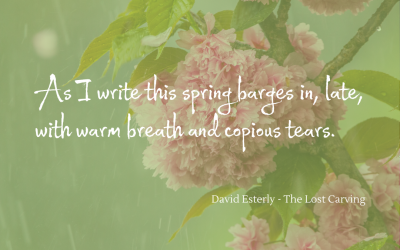 A beautiful, exuberant image of spring as an emotional and late arriving guest or friend, with its heavy showers transformed into 'copious tears'.  Welcome, spring, tears and all.  We need them to help the summer grow. 'As I write this spring barges in, late, with...
read more
A fascinating comment by a very individual mind on exactly that, individuality and its creative capacity. While I believe also in the power of combined minds, and don't agree with Steinbeck's 'the only creative thing our species has', I do believe that such creative...
read more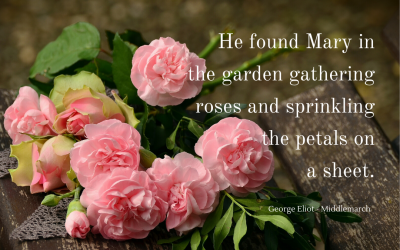 A beautiful, bright image. Mary is one of the finest characters in Middlemarch, with a sure touch and a strong inner light that outshines her outward lack of beauty. She gains and retains the love of a man who needs her steadying strength to right himself. Here he...
read more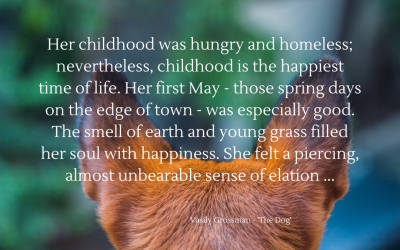 A beautiful description of the sheer, unbounded joy of being alive in a small mongrel dog who finds herself on the streets of a Russian city. Grossman's capacity to imagine the mind and feelings of animals is concentrated in this essay and another in the same...
read more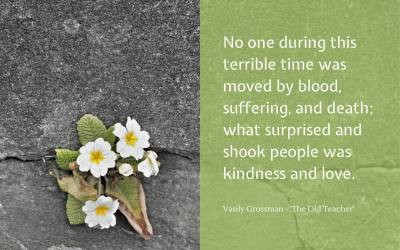 Grossman's war writing is interlaced with subtle and not so subtle pleas for individual kindness, small, humble, random, spontaneous, and free of corrupting ideological pieties. Here he comments on the habit people in war acquire for suffering, whether they are...
read more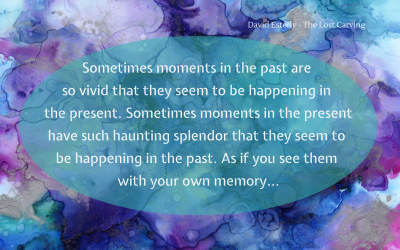 I like Esterly's skillful account of how the vividness of moments scrambles the natural order of past and present in our memories. Vividness can bring the past to the fore and make the present appear like a long-cherished memory even as it happens.This happens to me...
read more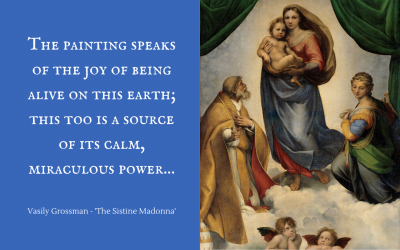 Grossman's essay on the Sistine Madonna by Raphael is one of the most splendid responses to art I have read. He deploys all his descriptive powers to encompass what it means to him and to us. Above all, it is a symbol of precious, tender, vulnerable, resilient life...
read more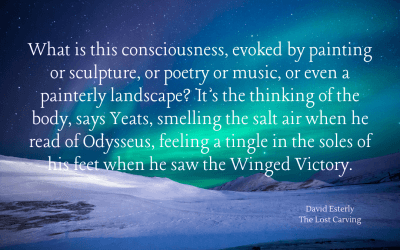 An unusual take on the physicality of our reactions to art or beauty, which Esterly attributes to Yeats as the 'thinking of the body'. I like the wholeness of it, the combination of mind and body in responding to something splendid, man-made or natural. 'What is this...
read more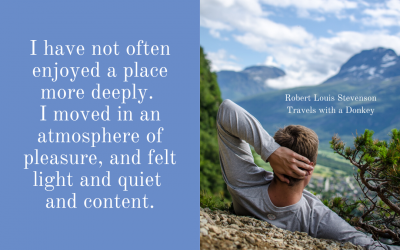 In the 1870s Robert Louis Stevenson ambled over a rocky bit of France helped and hindered by a donkey he came to love even while being frequently furious with her ornery stubbornness. Perhaps she thought the same of him. Here he relishes a moment of place-peace, and I...
read more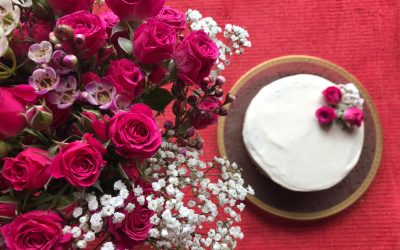 I recently celebrated a birthday. We drove into Geneva for a walk around the old town, stopping for hot chocolates and cakes here and there. Before we left, a friend and neighbour rang the bell to drop off a lace-crocheted initial she had made for me, the letter B...
read more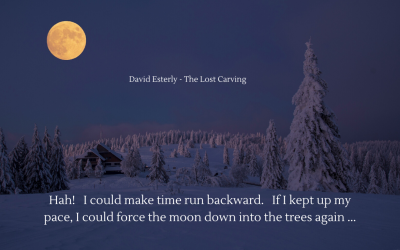 A marvelous moonlit moment when David Esterly was skiing to keep the moon in a fix spot, creating a parallax effect. He felt he was arresting time for a moment and luxuriated in its apparent suspension or even reverse. 'Hah! I could make time run backward. If I kept...
read more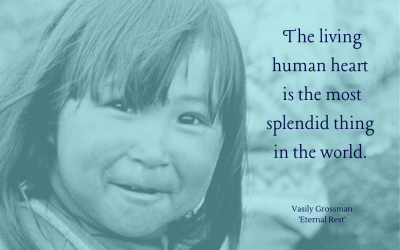 Vasily Grossman, who lived through and witnessed some of the vilest episodes of human history, never lost his belief in humanity as embodied in the smallness of an individual human being with quirks, dreams, longings and a capacity for love and kindness.He is, for me,...
read more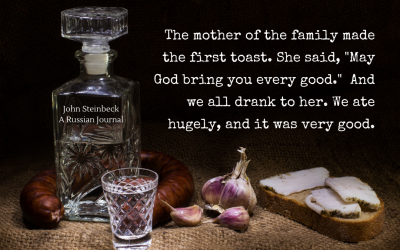 Hard to imagine a toast which encompasses more. This is John Steinbeck's description of the open-hearted hospitality he enjoyed, together with his friend the photographer Robert Capa, when they were invited to dine with ordinary people on their month-long trip to the...
read more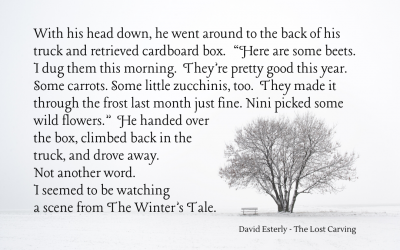 David Esterly describes an act of kindness in which the unspoken is heard in the spoken. His wife lost a close relative. A few days later a lifelong friend and neighbour pitched up with a box of garden-grown vegetables. He didn't mention the loss, only what was in the...
read more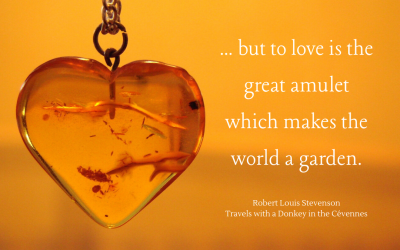 What a wonderful tribute to love. Why not tell someone that you love them, and enjoy love's protective amulet?And if you're into gardening, let this inspire you to get out your digging gear and start making 'the world a garden'.  (I just planted several hundred...
read more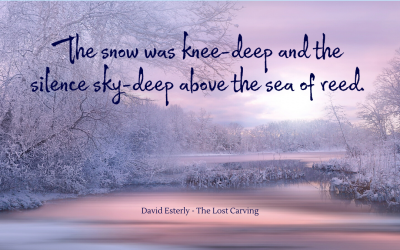 I found this a lovely echo, above and below; a soft-silencing deep blanket of snow on the ground reverberating in a boundless, soundless sky-deep silence overhead. From the first book in a trilogy by the Hungarian writer Lajos Zilahy, covering the life and fate of...
read more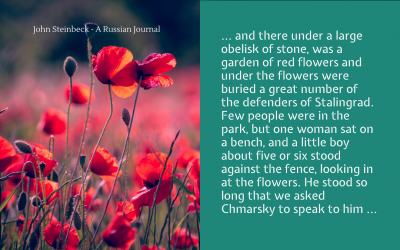 In 1946 John Steinbeck, with his friend the photographer Robert Capa, spent a month in the Soviet Union, including the war-ravaged city of Stalingrad. Here Steinbeck describes a touching encounter with a little boy for whom the memory of his lost father was clearly...
read more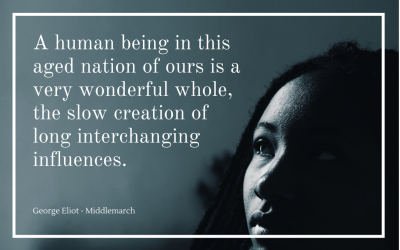 A marvelously succinct summary of the vast universe that is the evolution of a single human being, with all its subtleties and complexities.'A human being in this aged nation of ours is a very wonderful whole, the slow creation of long interchanging influences.'See...
read more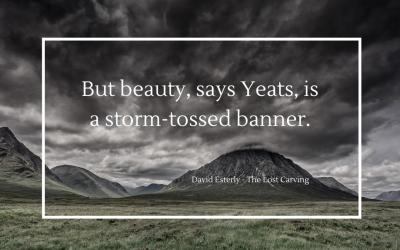 This is one of those wonder-lines which resonate without your necessarily quite understanding them. David Esterly, whose attunement to beauty was nano-fine, probably did. I enjoy the resonance despite the incomprehension and was reassured to find that even someone as...
read more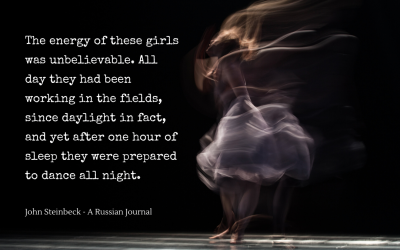 In 1946 John Steinbeck and the photographer Robert Capa spent a month travelling in the Soviet Union. Here they find themselves in the Ukraine, knocked sideways by the strength and joie de vivre of the farm girls. After another long day of hard physical work in the...
read more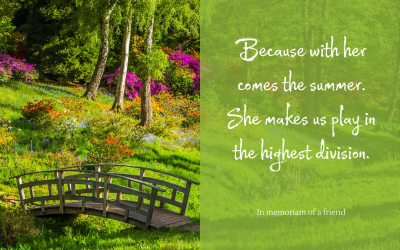 Having sent a new year card to a friend, I learned from her partner that she passed away last year. He sent me his in memoriam with a rich array of photos. Exactly as I remembered her, vivacious and luminous, beautiful and strong. The line quoted here seemed a...
read more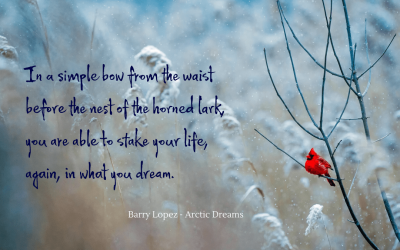 Isn't this as good a moment as any to stake your life again in what you dream? The start of a new year, a new decade and a once-every-101-years double-digit (101 years since the last one, in 1919, and 101 years until the next, 2121).And if you don't have ready access...
read more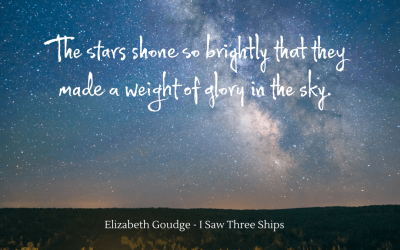 Merry Christmas if you celebrate it, and if you don't, may you in any case enjoy bright stars and their weight of glory. The message of the day is an ancient one: peace on earth and goodwill to all men.'The stars shone so brightly that they made a weight of glory in...
read more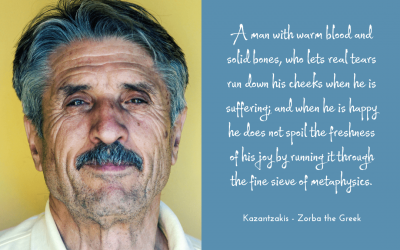 Zorba is one of the great Nuannaarpoqians of the world, running the gamut from Authentic to Zestful. Here is his uncomplicated capacity to feel joy and suffering in equal measure. I also like the phrase 'fine sieve of metaphysics', though not if it impedes rather than...
read more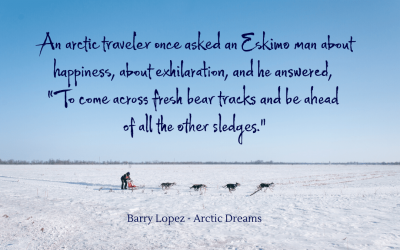 A simple response to what could be taken as a complex question. Send me your own definitions. From the magnificent book which inspired this website - enjoy our quote studded mosaic review. 'Knud Rasmussen, an arctic traveler, once asked an Eskimo man about happiness,...
read more
Here a young woman is three times happy, including the awareness of her happiness and its cause. May you enjoy similar moments of triple whammy happiness! 'She was happy, she knew she was happy, and knew she ought to be happy.'  Source: Jane Austen, Emma,...
read more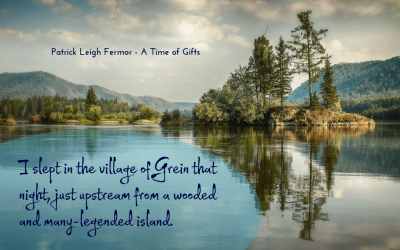 Are those legends still alive or did they die with the war, or with the people who told them?  And what if we made our own mental - or real - 'many-legended island' to walk in? Or created legends for the real world? If you have a memory or idea of a 'many-legended...
read more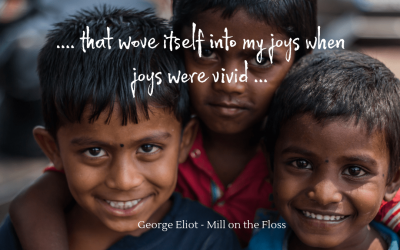 The spirit of nuannaarpoq includes the capacity for feeling joy vividly, regardless of the passing of years, or as Luiz puts it, the 'accumulation of youth'. May your joys remain vivid, wherever you are in life. '... that wove itself into my joys when joys were...
read more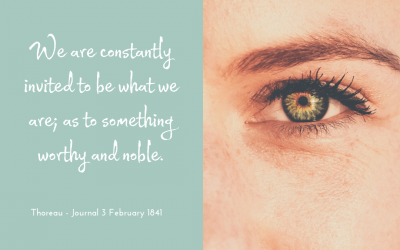 Another interesting take on authenticity. I like Thoreau's hopeful assumption that being what we are leans towards worthy and nobler qualities.And curious about that invitation - what or who does he believe is inviting us to be ourselves?'We are constantly invited to...
read more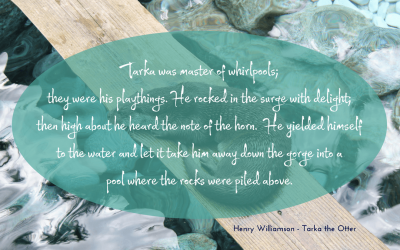 I loved this entrancing description of joyous and playful mastery. Tarka is a splendid character depicted after months of close observation of his kind, by a man disaffected with humanity following the horrors of the First World War. Although often hunted, the animal...
read more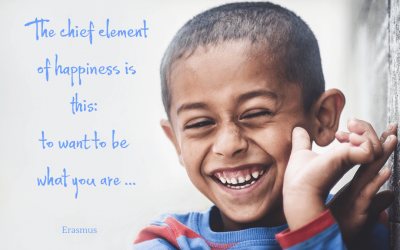 How contemporary this sounds, and yet it is a five-hundred year old classic. Erasmus reaching down the centuries by speaking lightly in the voice of a woman and, what is more, a woman self-styled as the goddess of folly. He manages to imbue her with such witty...
read more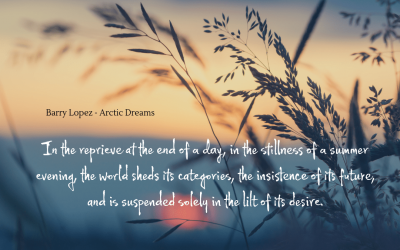 What an eloquent depiction of a perfect moment, suspended in the lilt of its desire. Think of similar moments you have experienced, or places which can induce them in you. Then fly there in your mind for a moment. Or an hour. For me such places are always either...
read more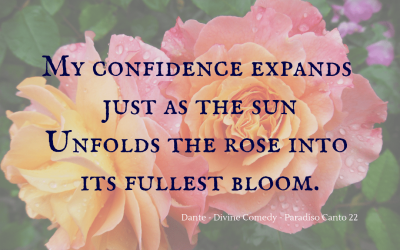 I liked the implication that Dante's confidence expands by the agency of another, in this case likened to the sun unfolding a rose. How about that as a metaphor for being a mentor to someone?'My confidence expands just as the sunUnfolds the rose into its fullest...
read more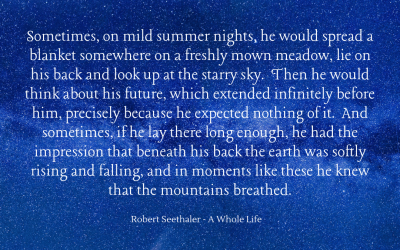 From Seethaler's subtle, sensitive and slender novel on a whole life (you can interpret the title either way).Here he describes the easy sleep of the protagonist, adaptable to many places including the open air. I liked the lack of fretful concern for the future, and...
read more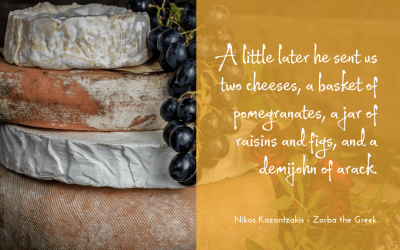 Something magical about hampers and other gifts of food and drink. I could live without the arack, but love the cheese, pomegranates, and raisin and fig selection, a perfect picnic snack. See also Pliny the Younger on a gift of dates.'A little later he sent us two...
read more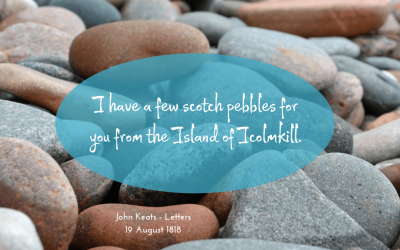 As a committed pebble picker, I was delighted to read that Keats also thought to bend down and scoop up a few when he travelled. Here he brings them back from his trip to Scotland, as a memento for his sister.On the metaphorical benefits of holding a pebble in your...
read more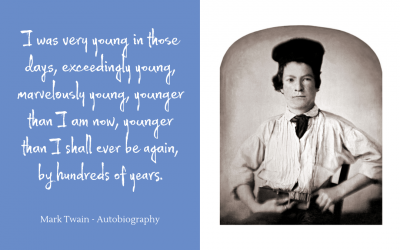 A wonderful, playful evocation of youth remembered, in heaps and piles, years, decades and even centuries later. But keep in mind one definition of age; that of 'accumulated youth'. There, don't you feel younger already? 'I was very young in those days, exceedingly...
read more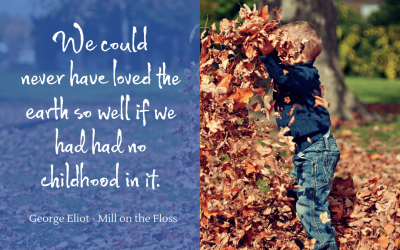 If ever we needed to remember our love of the earth, it is now. I like George Eliot's hypothesis that our love of it is anchored in our childhood experience of it. Get your kids - or yourselves - down to the park or into the country, and start kicking up the autumn...
read more
Or if you'd like to get in touch ...
Copyright: www.nuannaarpoq.com – Beatrice Otto 2020 – design and content, all rights reserved.  
Colours & fonts chosen for aesthetic strength and because their names reflect the mission of nuannaarpoq.com.  Colours: menu, header & text box: Warm Welcome by Quete80   I   footer: Be Happy by OrendaWhisper.  Fonts: sans serif: Ubuntu   I   script: Spirit of Dance by Vera Holera   I   serif: Lustria