Bea, your web site is spectacular. I love the colors, the approach, the design, the words.
Nancy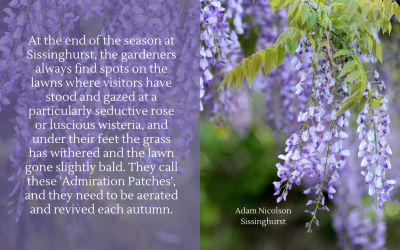 Nobody hatched or planned the idea of Admiration Patches.  Instead, they were unconsciously crowd-created by individuals literally 'voting with their feet'.  The gardens at Sissinghurst have thousands of visitors and by the end of the open season, their admiring eyes...
read more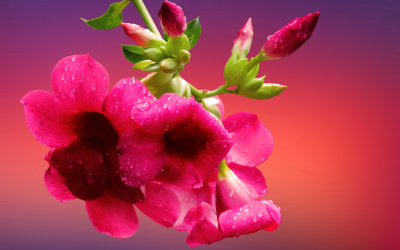 After weeks of dancing around pandemic implications, we were overjoyed to have three members of my family visit us for ten days.  During their stay we spent a sunny day walking around Geneva before visiting old family friends for tea. 'Old family friends' is a general...
read more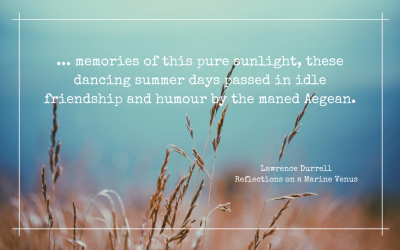 They are still with us, although we're far from that beautifully named, white-spumed 'maned Aegean'.  Eke them out, enjoy each and every one and then bask through the winter months in recollection of them.... memories of this pure sunlight, these dancing summer days...
read more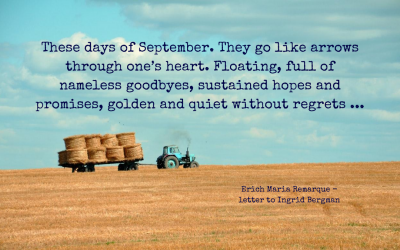 A surprising insight by the author of All Quiet on the Western Front.  You will never see this month the same way again, here proposed as a metaphor for a stage of life, the ninth month of a lifespan of twelve.  So many fine aspects of a human existence, including...
read more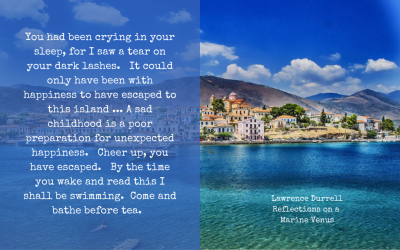 Here Durrell describes the woman who became his second wife, who joined him in Rhodes after the war.  I was struck by the comment that a 'sad childhood is poor preparation for unexpected happiness', particularly as there were large parts of my childhood which could be...
read more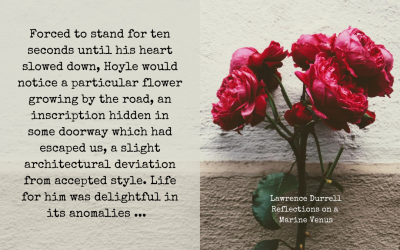 Hoyle was the British Consul in Rhodes during the two years following the war, and became a close friend of Lawrence Durrell.  He is eccentric, ornery, particular, and funny, possibly unintentionally. He also had a heart problem which obliged him to stop and rest...
read more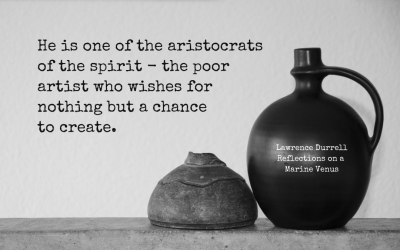 Are you one?  If not, why not?  An aristocrat of the spirit doesn't need palatial dwellings or magniloquent titles, just a spirit imbued with creativity and its impulses.   This noble characterisation is Durrell's way of paying tribute to an Austrian potter he knew...
read more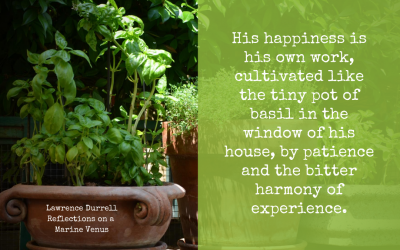 Durrell has some wonderful exchanges with a philosopher-fisherman called Manoli during his two years living in Rhodes after the war.  I liked this idea of cultivating your own happiness like a pot of basil on the window sill. His happiness is his own work, cultivated...
read more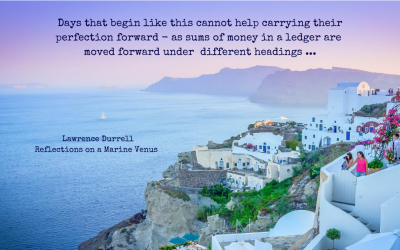 Being a madrugadista, I love descriptions of the magic hours of daylight before the world is up and about.  It sets me up for the day if I wake by dawn in summer, around five in June but by now, mid-August, already slipping well into six o'clock.  As I see the night...
read more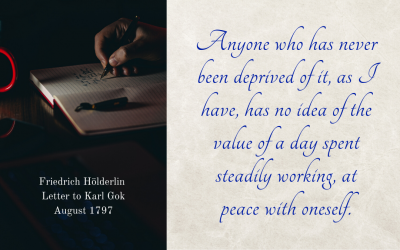 Hölderlin, who wasn't frequently at peace with himself, describes the value of a day spent working, at ease and in one's element.  How work can feel when it works.See also Adam Nicolson's comment on the value and pleasure of working alone.Anyone who has never been...
read more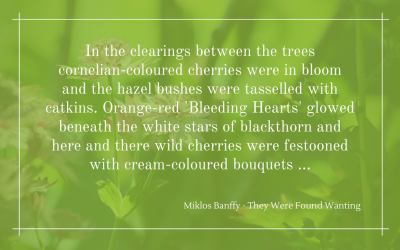 One of the charms of Miklos Banffy's superb Transylvanian Trilogy is the evocative and tapestried description of landscapes by a man who knew and loved them in their detail, and who, when he was writing, knew that many of them were no longer accessible to him.  This...
read more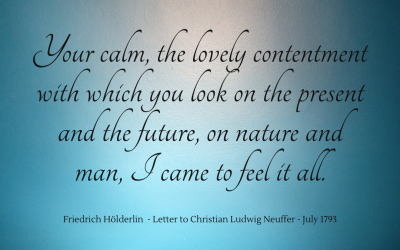 Christian Ludwig seems to have been a wise man, able to look on things with calm and contentment.  He lived at a time no less tumultuous, and perhaps in some ways more so, than our own.  A reminder to cleave to the good and keep one's equanimity.Your calm, the lovely...
read more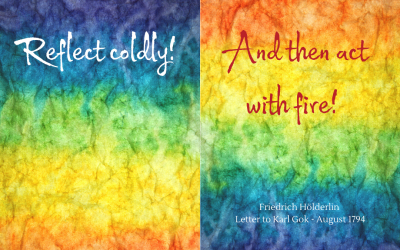 My kind of decision-making process, superbly succinct and balanced. Not sure how much I live up to it, but certainly one to aspire to.Reflect coldly!  And then act with fire!  Source: Friedrich Hölderlin, letter to Karl Gok, 21 August 1794, Essays and Letters, trans....
read more
Adam Nicolson's description of working alone resonated with me, as I have also nearly always done so, and it is my preferred mode, even though I thoroughly enjoyed the time I worked in close connection with colleagues.  This doesn't mean I doubt the benefits of team...
read more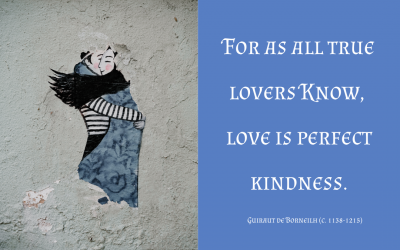 For me, if not for others, a perfect definition of love, by a 12th century troubadour.  The image, of wall art in Lisbon, struck me as a perfect illustration.For as all true loversKnow, love is perfect kindness. Source: Guiraut de Borneilh (c. 1138-1215), quoted in...
read more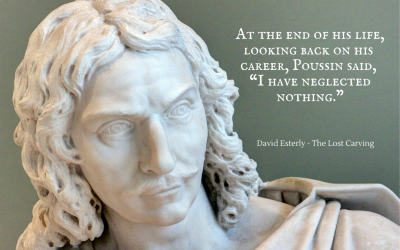 This sense of completion in an artist's life struck me, and it made me think about what I may be neglecting now. I take as read the implication that he means 'nothing important'.  A no-regrets summary of life. It also echoes something my father has said a few times...
read more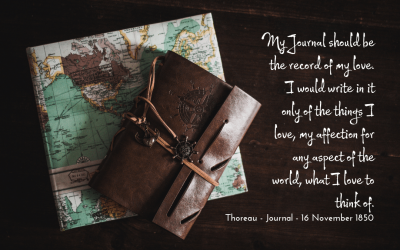 Thoreau's journals have many comments on the nature of journals, of which this one is closest to my own impetus for writing one, albeit patchily: I put off writing for weeks because once I start there is so much to say, even keeping only to one's 'affection for any...
read more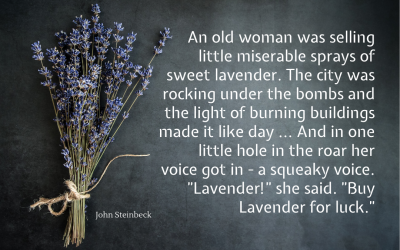 Lavender is a resistant plant, surviving a generous spectrum of cold and heat, rain and drought. It's perhaps therefore an appropriate plant to bring you bomb-dodging luck in a blitz. I liked this anecdote by Steinbeck, firstly the details that people remember of...
read more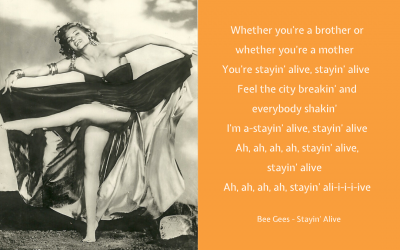 A few years ago I had a professional trauma and a friend sent me this video. It became my resistance song, making me laugh at the nonsense. Having noticed that when leaving an organisation, it was common to lace your parting farewell note with strategic input and...
read more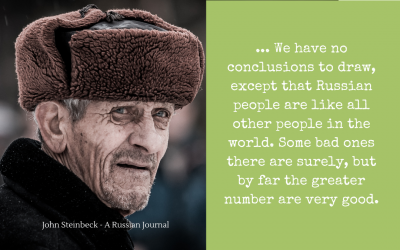 If you can die concluding that by far the greater number of people in the world are very good, you have had a good life or perhaps you have just lived it well.  Here, Steinbeck concludes his slim, rich account of a month spent in the Soviet Union at the height of the...
read more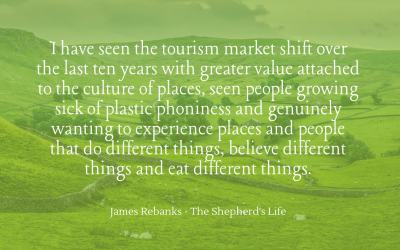 An interesting observation by James Rebanks, who has fought to keep alive some older traditions of farming and sheep-rearing, including a particular type of sheep, in the north of England.  His book seems to have touched a chord, resonating with a deep-seated need for...
read more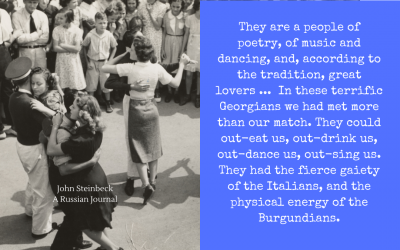 Being cautious about characteristics attributed to entire nations which might be more suitably attributed to individuals, I hesitated to share these observations by Steinbeck of his experience of Georgians, during a short visit of a few days or perhaps a week. What it...
read more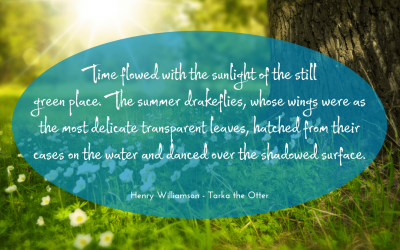 Time pouring down with the sunlight while diaphanous drakeflies dance on the water. A perfect summer scene and one to share at the cusp of summer. I am still sorting drakeflies from damsel- and dragonflies.  It appears that what I have been joyously calling out as...
read more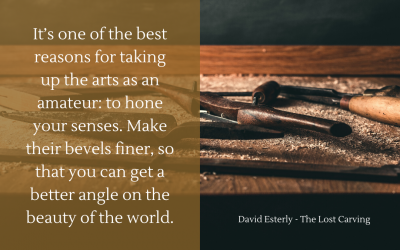 An unexpected reason to take up the arts, it sharpens your appreciation. Among other things, it seems that many forms make you notice detail, they invite you to see or hear more, at different levels. They also invite focus, filtering out distraction and the...
read more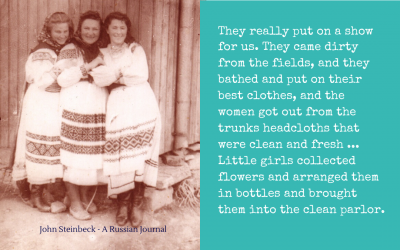 Steinbeck describes the warmth and generosity of the welcome he and Robert Capa received in Ukraine, during their month long trip to the Soviet Union in 1946. The entire village was party to the plan, and contributed what they could. This was a great show of...
read more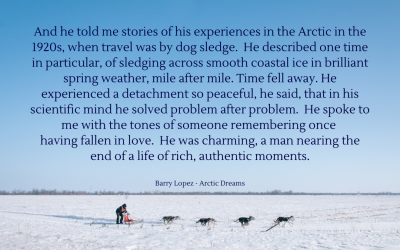 This describes one of those timeless stretches when you step outside the sturm und drang and step into flow of one kind or another. This is the detachment we find each in our own way, but commonly it seems to involve contact with a natural setting, or being involved...
read more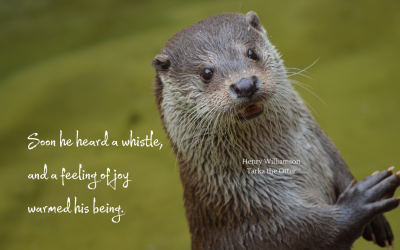 A wonderful moment captured, or imagined, in the playful, cavorting, dangerous life of an otter. Here Tarka's mate whistles to him and he responds in joy. 'Soon he heard a whistle, and a feeling of joy warmed his being.'  Williamson's is one of the most enchanting and...
read more
A contemplative observation on flowers and their beauty. However, to the transcience I would add resilience. It amazes me how flowers come to places from which they've been excluded, if given half a chance. I find them boldly blooming in hair-pin cracks in pavements...
read more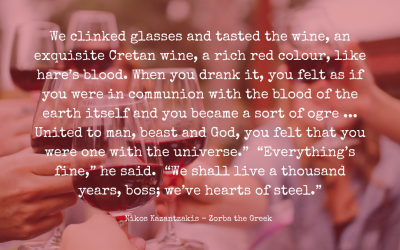 A joyous, rolicking testimony of the power of wine to turn men into gods, or at least make them feel that way. Zorba's exuberance and vivid experience of even the commonplace makes him a world class nuannaarpoqian. May you occasionally feel as if you will live a...
read more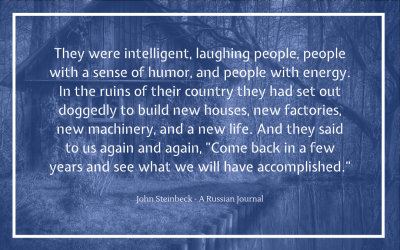 Steinbeck's parting shot on leaving Kiev a few years after the end of the war had razed the country, celebrates their resilience and determination.  Their invitation to him to come back also signals a confidence in their own reconstructive capacity.  Whether they were...
read more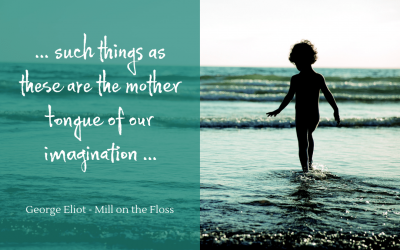 A lovely notion in George Eliot, that our imagination has its own mother tongue.  It made me realize how much of my imaginative world was indeed seeded by my mother. I can't even put my finger on how she did it, other than by simply being an imaginative person and...
read more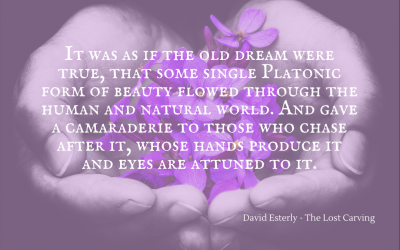 It's years since I singled out this quotation, by someone whose hands produced beauty and whose eyes were attuned to it. And now it comes to the front of the nuannaarpoq pipeline just after I watched an hour long interview with a doctor; ostensibly about coronavirus,...
read more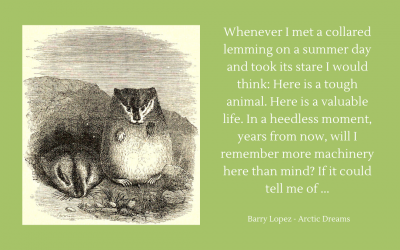 Lopez's description of a tough animal encountered on a summer's day, arresting him with its direct gaze, reminds me of the sightings of birds we enjoy in our garden. In one spot, we used a pair of terracotta pots, about a foot high and nearly as much across, as the...
read more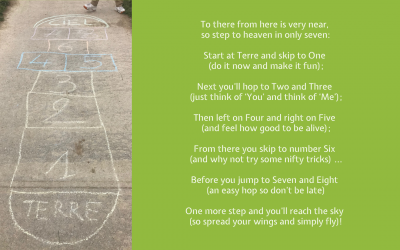 Now I know why it's called 'seventh' heaven - it takes only seven steps to get there. I stumbled upon this revelation while doing the Spring Circular, the 10km round robin walk with which I've been savouring the season's renewal. A child with chalk showed me the way,...
read more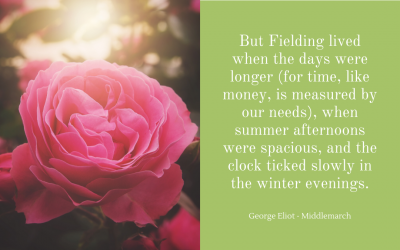 We tend to think of time poverty as a feature of modern life. I was curious that George Eliot, writing in the middle of the 19th century, looked back to Henry Fielding's time, a good hundred years earlier, noting that time, in his time, was more abundant.Striking too...
read more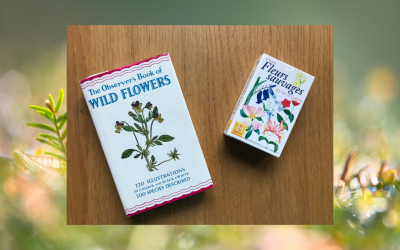 Spontaneously, during this period of self-isolation we have been walking (and in Luiz's case, biking) more. We are surrounded by countryside and can walk or bike for hours barely crossing paths with others, and if so, at well over the required two metres. Building up...
read more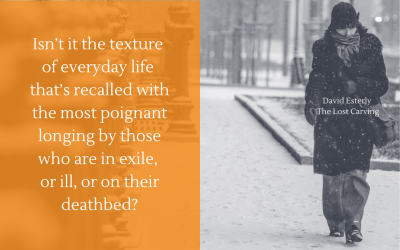 This thoughtful reminder of the splendour of everyday happiness made its way into the nuannaarpoq pipeline long before the world we love was swept by pandemic. How many of those in quarantined 'exile', or ill, or on their deathbed may be recalling with longing those...
read more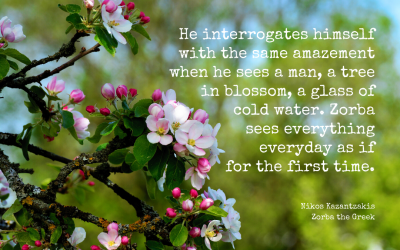 One of the tricks of nuannaarpoq living, as far as I can see, is to remain wide-eyed and open-hearted, to view and experience things as if they are new, even if they are quotidian. It is this quality, along with sheer unbounded exuberance, which wins Zorba a...
read more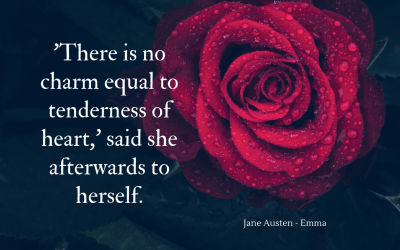 Emma's development from a clever girl into an intelligent woman includes a growing appreciation for tenderness and sensitivity to others. Here she notes the charm of tenderness. ''There is no charm equal to tenderness of heart,' said she afterwards to herself.' ...
read more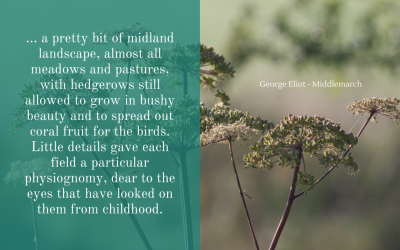 One of the delights of repeated exposure to a landscape is the growing level of granularity in our observation and enjoyment of it. A hedgerow or embankment or copse yields more beauty and variety the more we see it. Here George Eliot evokes the tenderness of...
read more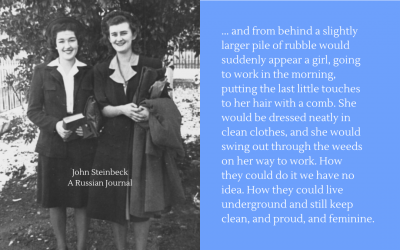 During their month long trip to the Soviet Union after the Second World War (and during the Cold one), John Steinbeck and Robert Capa spent a few days in the bombed out siege-opolis of Stalingrad, where they found human scenes, some startling in their extremity and...
read more
Or if you'd like to get in touch ...
Copyright: www.nuannaarpoq.com – Beatrice Otto 2020 – design and content, all rights reserved.  
Colours & fonts chosen for aesthetic strength and because their names reflect the mission of nuannaarpoq.com.  Colours: menu, header & text box: Warm Welcome by Quete80   I   footer: Be Happy by OrendaWhisper.  Fonts: sans serif: Ubuntu   I   script: Spirit of Dance by Vera Holera   I   serif: Lustria