Bea, your web site is spectacular. I love the colors, the approach, the design, the words.
Nancy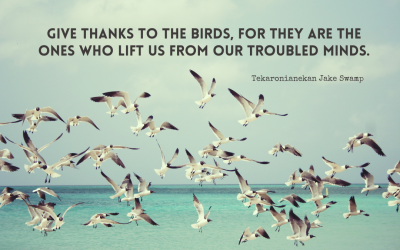 Next time your mind is roiling, look outside and see if you can spot any birds, and then watch them.  Their capacity to survive, their resilience and resourcefulness, and their sheer uncomplaining chirpiness can often air-lift us out of anxiety.  Or at least provide a...
read more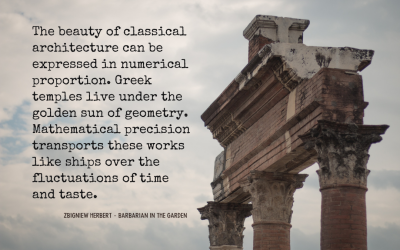 Yes, I have a lifelong attraction to the 'timeless', namely, things which retain our admiration or affection over centuries or millennia, due to an ineffable quality of not becoming dated, even if firmly rooted in a given time.Zbigniew Herbert has apparently teased...
read more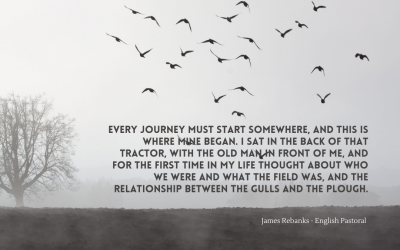 James Rebanks had a childhood awakening when accompanying his grandfather on a tractor, making the connection between his family, their farm, and the gulls and the plough.  It's a fitting start to a heartfelt journey from that 'ancient farming world' to its roaring...
read more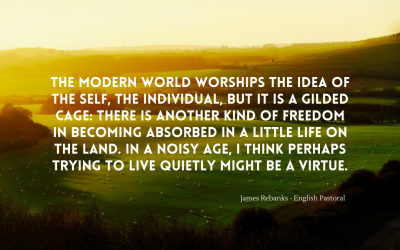 Beware the gilded cage, although I don't believe that living a life on the land need contradict individualism.  In the sense that you may develop a stronger sense of self and purpose, and a feeling of contributing to something bigger than yourself, it might actually...
read more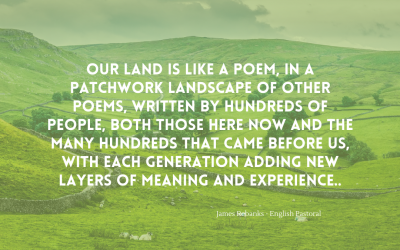 A lovely description of a landscape as poetry in motion, slow sedimentary layers added by successive generations.  Maybe recent layers showing devastation of rich old forests and all round biodiversity will give way to more trees, plants and a wide range of species of...
read more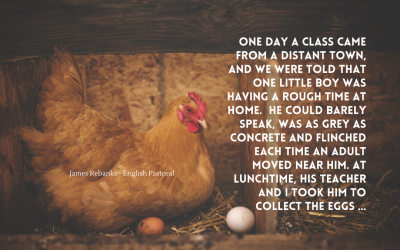 James Rebanks describes a touching element during a class visit to his farm, where one little boy finds solace in simply gathering some eggs or watching the dogs work with the sheep. One day a class came from a distant town, and we were told that one little boy was...
read more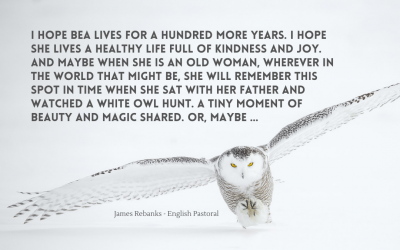 James Rebanks describes a nuannaarpoq moment with his daughter, watching a white owl hunt.  And he wishes her all a loving parent could wish a child along with the hope that this magical moment will live on in her memory.    I hope Bea lives for a hundred more years. ...
read more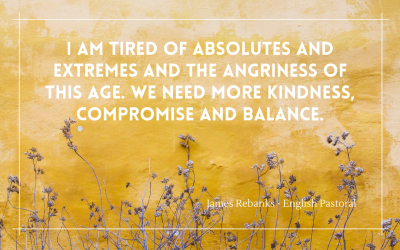 As many who dip into some social media realms may have noticed, there's plenty of absolutes, extremes and anger out there.  Peace.  Breathe.  Reset.  Kindness, compromise, balance.  Bring 'em on. I am tired of absolutes and extremes and the angriness of this age.  We...
read more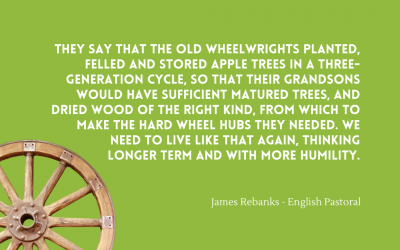 I love the slowness of timber growth and durability.  Years ago my brother introduced me to the notion of tempering timber to make it more long-lasting and since then I've been captivated by accounts of growing and using wood in a cycle amply exceeding a (human)...
read more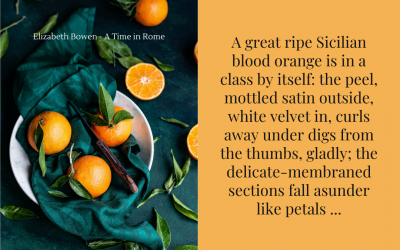 Elizabeth Bowen's mouth-watering description of eating a Sicilian orange in Rome deserves a place at the Nuannaarpoq table.  And I read it a few weeks after moving to Italy and beginning to find red, sweet oranges of a quality I've rarely encountered elsewhere.  Some...
read more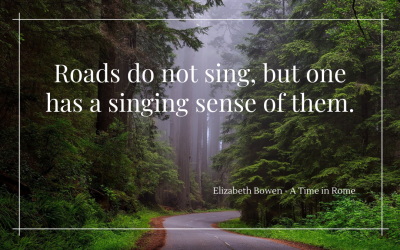 This enigmatic statement by Elizabeth Bowen caught my eye, even though I'm not sure what it means.  Only that some roads invite you to follow them?  I often find when we're driving or walking or biking that a sly side road winks and nods and invites you to step in. ...
read more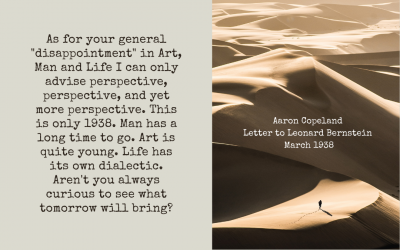 Some wise words from Aaron Copland to a young Leonard Bernstein.  They maintained a close friendship and correspondence for decades, and I like the advice.  It reminds me of a word from a father to a daughter in an American novel: 'Slow down, Ivy, slow down.'  Copland...
read more
An interesting piece of aunt-like advice from Martha Gellhorn to Leonard Bernstein.   She emphasises the importance of not only finding a nugget of peace within yourself, and the conditions to nurture it, but the fact that maintaining it is a constant endeavour, if...
read more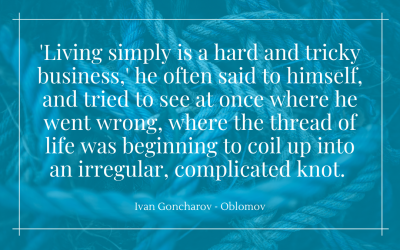 An interesting character in Goncharov's 1859 novel Oblomov is Andrey, close friend of the eponymous hero.  He starts out as an exuberant, feisty boy and grows into a disarmingly and ebulliently self-assured, balanced and capable man who tries to rouse his boyhood...
read more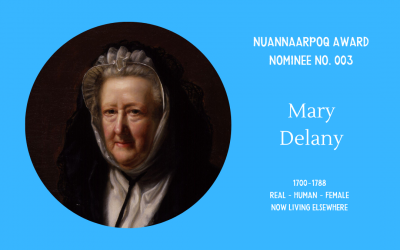 Our third nominee for a Nuannaarpoq Award is: Mary Delany (1700-1788) Parameters:  18th century, British, real, human, female, now living elsewhere Nuannaarpoq qualities: authenticity, enchantment, imagination, innocence, kindness, resilience References: Molly...
read more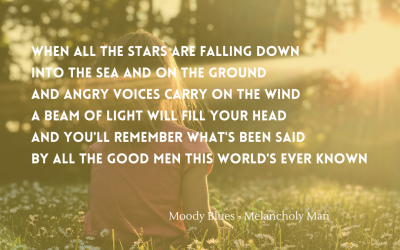 This recently discovered gem accompanied us twice as we drove down, and two weeks later, up, the Italian side of the Grand St Bernard Pass between Italy and Switzerland.  It's one of the most beautiful passes we've ever been through, and the road is marvelous.  There...
read more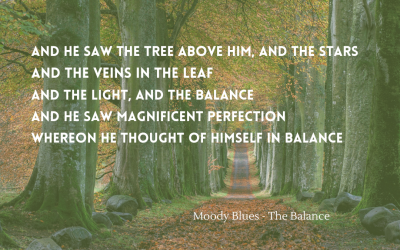 Yes, sometimes I'm late to the game.  Such as 'discovering' the Moody Blues in 2021, a mere half century after they were discoverable. We were driving over the Grand St Bernard Pass and had picked up a second hand CD (remember those?) which we decided to try out on...
read more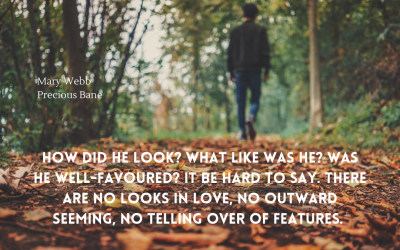 Indeed, often when you love, you take in a whole person, sometimes in an instant, and don't create a composite of features and qualities. And much of what you respond to is intangible and even invisible.  How did he look?  What like was he?  Was he well-favoured?  It...
read more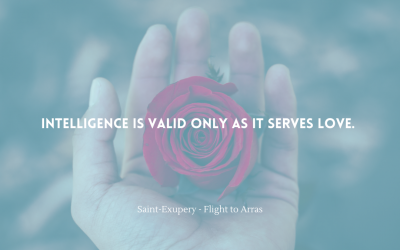 Saint-Exupéry is one of the most lapidary writers I've come across, particularly when commenting on vast human complexities such as love, peace, or war.   I liked this pithy and purposeful view of the validity and value of intelligence. Intelligence is valid only as...
read more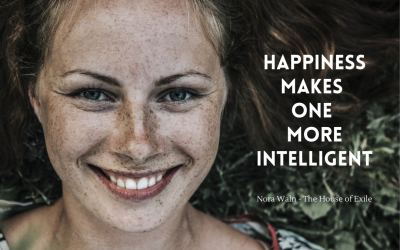 While I'm not sure if this is true, I found it a striking statement, particularly given the context.  It's from a letter written by a husband in 1920s China, who knew or sensed that he would soon lose his life due to a perilous political situation.  His premonition...
read more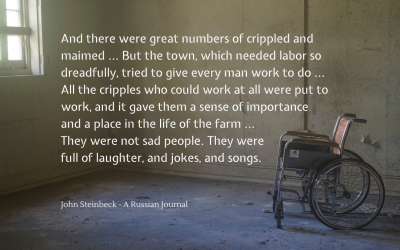 It's a few years since I read Steinbeck's account of his visit to the Soviet Union with the photographer Robert Capa.  A wonderful book full of humour and empathy.  Among the many quotations I jotted down was this one, concerning the time they spent in Ukraine.  I had...
read more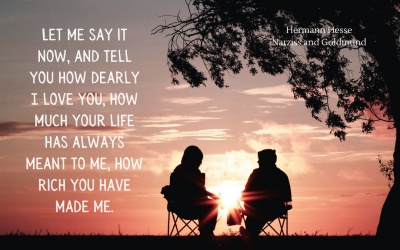 The cool and collected Narziss finally tells his lifelong friend Goldmund how much he means to him.  Goldmund wanders the world for years, the wilder of the two, and perhaps in some senses the less wise, eventually returning to his childhood home, and friend-mentor...
read more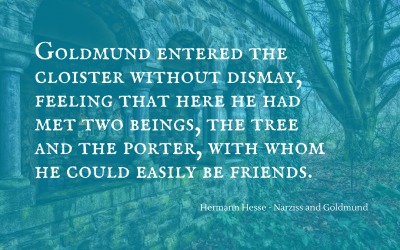 The blithe and luminous boy Goldmund arrives at the school which will be his home until he reaches adulthood, and feels reassured by two new friends.  Of course, his real friendship comes later, but I liked that the trusting child sees a tree as a potential friend, as...
read more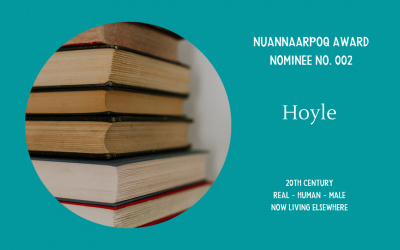 Our second nominee for a Nuannaarpoq Award is:Hoyle, a former British Consul in Rhodes  Parameters:  20th century, British, real, human, male, now living elsewhereNuannaarpoq qualities: authenticity, enchantment, innocence, imagination, resilienceReferences:  Lawrence...
read more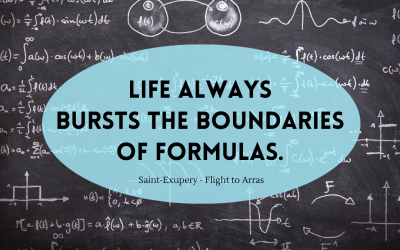 A wonderful comment on life - you can come up with as many fine formulae as you like, it will sooner or later defy our clever definitions. Life always bursts the boundaries of formulas. Part of me says, 'Thank goodness'. For other comments on this elusive thing called...
read more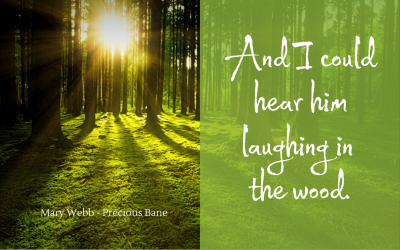 Something blithe and enchanting about this description of the man she loves, before she realises that he loves her.  He is resilient, upstanding, independent, kind, and merry.  She loves him from the get-go, as he does her, though her belief in that takes some...
read more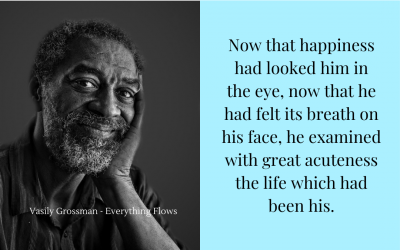 Ivan is a character, apparently based on Vasily Grossman's brother-in-law, who survived 30 years in a gulag before being released into 'normal' life.  He is resilient enough to be able to rediscover the existence of love and kindness, as well as simple beauty and...
read more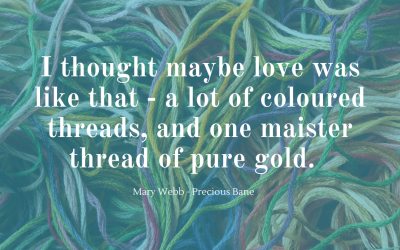 This lovely metaphor for love is from a fine story of it by Mary Webb. I found this quotation around the same time as another by a quite different writer, Saint-Exupery, which similarly refers to the weaving strands of love.I thought maybe love was like that - a lot...
read more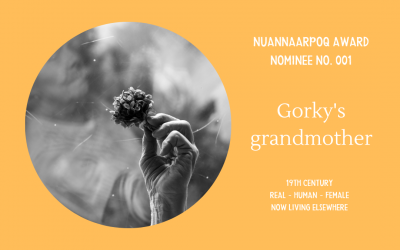 As you may be aware, we had the bright idea to present a few nuannaarpoqian characters as candidates for a Nuannaarpoq Award.  Please feel free to read more about this idea including the rules devised to ensure this is a joyous and humanistic process.  Therefore...
read more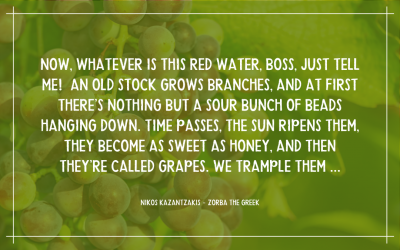 Zorba, one of the world's great nuannaarpoqians, questions the soul-expanding miracle of wine. A key aspects of his vivid living is his constant questioning and fresh experience of ordinary things. Nothing jaded or stale about his engagement with what many people take...
read more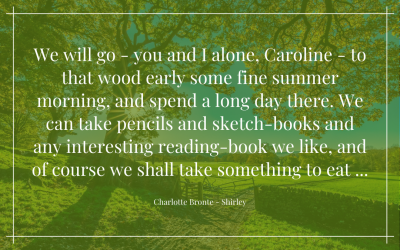 A moment when the two main characters of Bronte's less well known novel get to know each other.  Shirley, newly arrived, proposes a day in the woods to Caroline, who knows the land and the calendar of its changes in minute detail, a mental map she is happy to unfold...
read more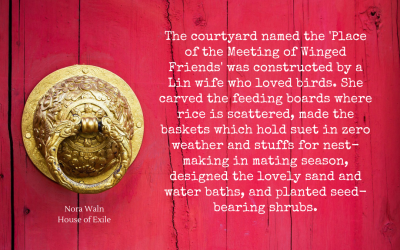 This description of a Chinese garden designed for the benefit of birds made me review our own.  We have water baths, winter and summer (they need fresh water when all is frozen over), but I hadn't thought of sand baths, though I've seen them taking dust baths in...
read more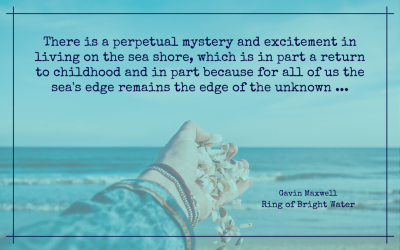 A subtle portrayal of the enduring enchantment of sea shores, whether through the richness of their treasures or their simple liminality.  I like the combination of a child and an adult response, though isn't much of the charm due to the shore's invitation to be a...
read more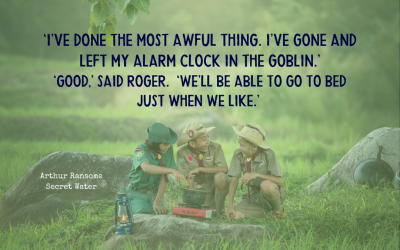 One of the joys of leaving a job is the growing awareness that waking becomes a natural process, rather than an aural shock.  This doesn't necessarily mean waking late, just naturally, and I still get up as early as I ever did, about six in the winter and five on...
read more
A blazingly limpid landscape on the island of Thera, plunging down to the sea, with flashes of passing birds and lizards over patterned stones and anchored plants. But there is a delicate order, too, imposed by tracery of asphodel and grape-hyacinth, purple mallow and...
read more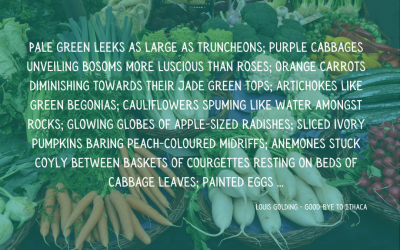 You may have noticed that I love basket-bursting, banquet-spread descriptions of food.  However, while meals can be sumptuously presented, market stalls collapsing under the weight of their rampant verdure are harder to find.  So, imagine the joy of walking around...
read more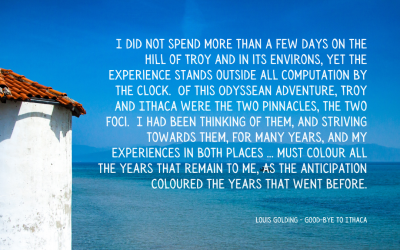 Golding took thirty years to complete his own odyssey from Troy to Ithaka, with war and other events intervening between his first attempt, in which he passed a few miles shy of Ithaka, and the second successful venture in the early 1950s.  Here he captures the...
read more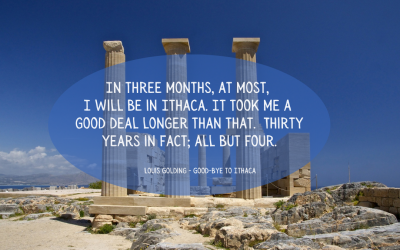 Golding, sailing past the island of Ithaka, thought he would return and land within a few months.  Then war and life intervened, and it took him more than a quarter of a century.  Which goes to show, hang on to your dreams long enough and they can come true.  Or, more...
read more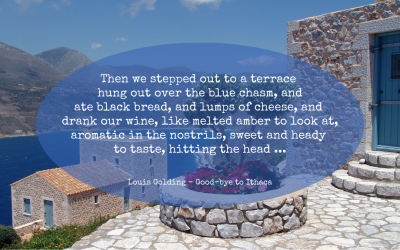 It is unbelievable how good bread and cheese can taste, washed down with some form of liquid amber, when you are on a terrace over a blue chasm, or sitting on a rock or a bench during a hike or a bike ride. I love such moments captured and committed to memory so we...
read more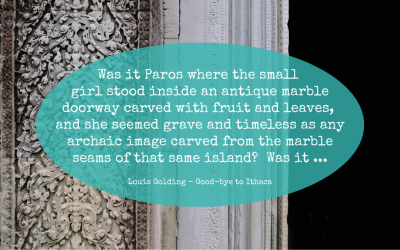 Golding sails from island to island on a land and sea alternating odyssey, and at some point, overwhelmed by enchantment, his memory of moments merge into the map of his travels so he can't quite recall what happened on which island.  But the memories are still vivid,...
read more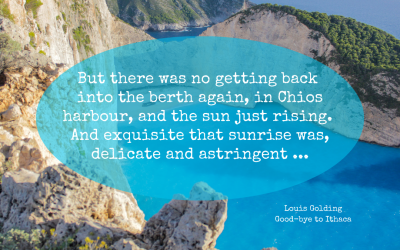 What a dazzling description of watching a sunrise from a ship, contrasted perfectly with a preceding sunset.  The miracle of both, eternal and always new.  But there was no getting back into the berth again, in Chios harbour, and the sun just rising. And exquisite...
read more
Or if you'd like to get in touch ...
Copyright: www.nuannaarpoq.com – Beatrice Otto 2022 – design and content, all rights reserved.  
Colours & fonts chosen for aesthetic strength and because their names reflect the mission of nuannaarpoq.com.  Colours: menu, header & text box: Warm Welcome by Quete80   I   footer: Be Happy by OrendaWhisper.  Fonts: sans serif: Ubuntu   I   script: Spirit of Dance by Vera Holera   I   serif: Lustria