Bea, your web site is spectacular. I love the colors, the approach, the design, the words.
Nancy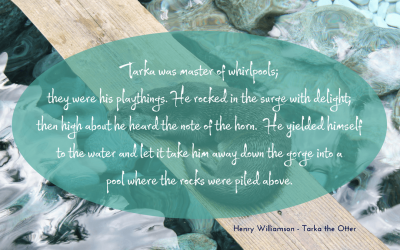 I loved this entrancing description of joyous and playful mastery. Tarka is a splendid character depicted after months of close observation of his kind, by a man disaffected with humanity following the horrors of the First World War. Although often hunted, the animal...
read more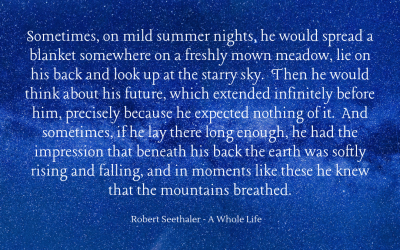 From Seethaler's subtle, sensitive and slender novel on a whole life (you can interpret the title either way).Here he describes the easy sleep of the protagonist, adaptable to many places including the open air. I liked the lack of fretful concern for the future, and...
read more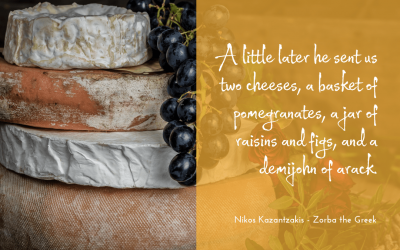 Something magical about hampers and other gifts of food and drink. I could live without the arack, but love the cheese, pomegranates, and raisin and fig selection, a perfect picnic snack. See also Pliny the Younger on a gift of dates.'A little later he sent us two...
read more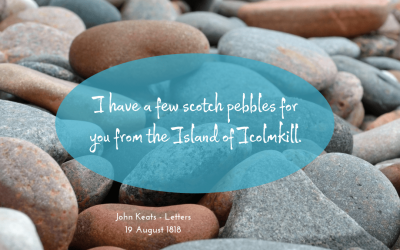 As a committed pebble picker, I was delighted to read that Keats also thought to bend down and scoop up a few when he travelled. Here he brings them back from his trip to Scotland, as a memento for his sister.On the metaphorical benefits of holding a pebble in your...
read more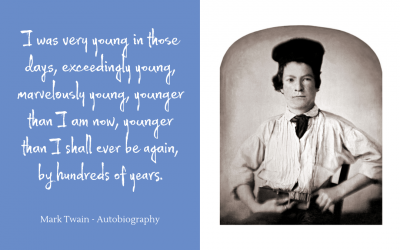 A wonderful, playful evocation of youth remembered, in heaps and piles, years, decades and even centuries later. But keep in mind one definition of age; that of 'accumulated youth'. There, don't you feel younger already? 'I was very young in those days, exceedingly...
read more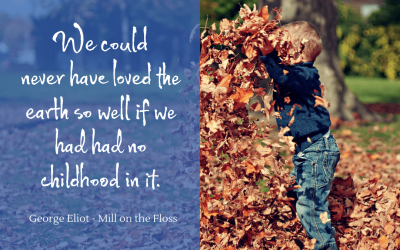 If ever we needed to remember our love of the earth, it is now. I like George Eliot's hypothesis that our love of it is anchored in our childhood experience of it. Get your kids - or yourselves - down to the park or into the country, and start kicking up the autumn...
read more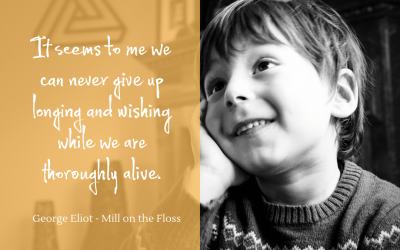 An unusual take on the link between longing and being fully alive. Perhaps the Dalai Lama would question its validity, but I believe he would show compassion towards its all too human weakness. And I don't see this view as being contrary to an all-pervasive sense of...
read more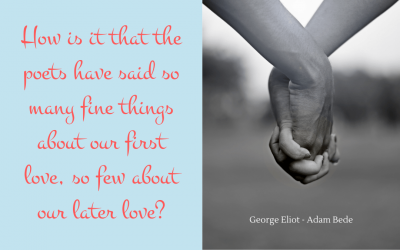 George Eliot noticed a bias in poets' treatment of love, a tendency to say many fine things about its first experience, and far fewer about those that happen later in life. I confess to having a special interest in sharing this quotation on this day, being the joyous...
read more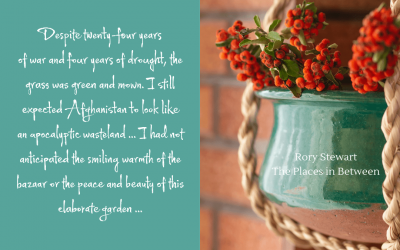 A beautiful image of resilience despite decades of war and years of drought: a green, tended and elaborate garden. Rory Stewart is humbled by this and other signs of precious normality. 'Despite twenty-four years of war and four years of drought, the grass was green...
read more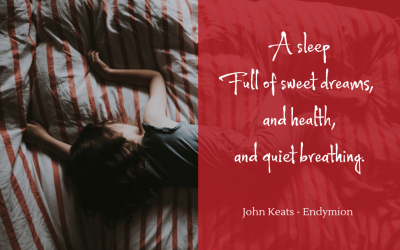 Keat's evocation of perfect sleep is particularly moving considering he was soon robbed of health and 'quiet breathing' by the assault of tuberculosis.  He had also nursed his mother and younger brother through it, losing both of them to its wreckage, and so no doubt...
read more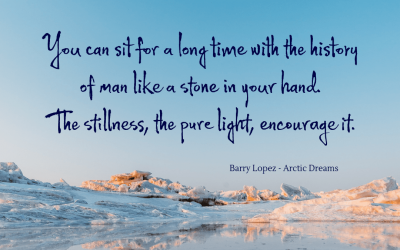 Try it, next time you have a quiet moment. Sit, if you will, maybe on a stone, and hold a smaller one in your hand, as a talisman for the history of man. Sense its weight and form. 'You can sit for a long time with the history of man like a stone in your hand. The...
read more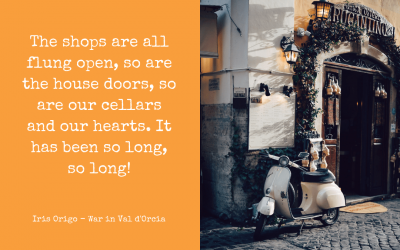 I believe we have a tendency to take peace for granted, though every day of it is a gift. Here Iris Origo captures the exuberance they felt when the Second World War came to an end. She was married to an Italian and kept a diary as the frontlines moved to and fro...
read more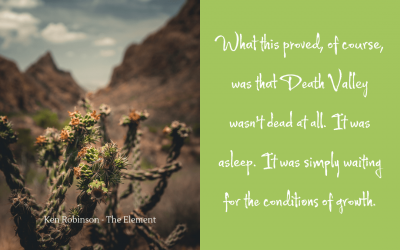 In the winter of 2004-2005 seven inches of rain fell in Death Valley, a once in generations weather event. When spring came the floor of the valley was a carpet of flowers. It had been sleeping, not dead. I was struck by this account of a rare deluge in a place...
read more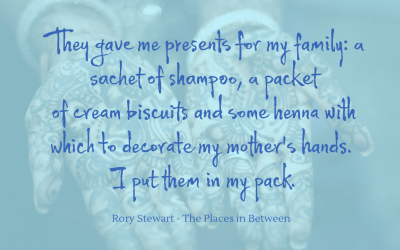 I am curious and charmed by the rituals and choices of gift-giving, particularly when done with kindness and generosity rather than from obligation. Here Rory Stewart lists the humble but thoughtful gifts given to him on his walk across Afghanistan, for his family in...
read more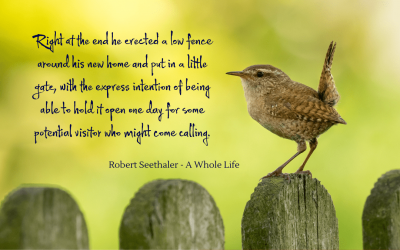 This is a touching idea, installing a gate around your home not to exclude people, but rather to hold it open for them, making them feel all the more welcome. From a slender, quiet, moving novel. 'Right at the end he erected a low fence around his new home and put in...
read more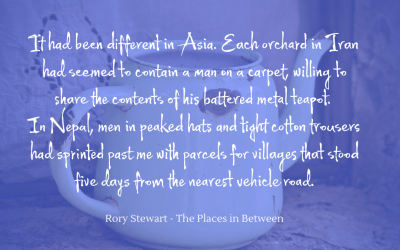 Rory Stewart walked long stretches of several countries, including Pakistan, Iran and Afghanistan. He was therefore struck by the absence of people when he did a sea-to-sea hike along Hadrian's Wall.I love the apparently not uncommon sight of men on carpets in Iranian...
read more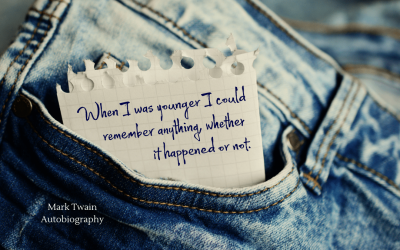 Memory is a key theme of nuannaarpoq.com, as somehow it came to the surface as a principal element of a life well lived when I was considering what to highlight. Here Mark Twain embellishes the concept with his usual wit and verve.'When I was younger I could remember...
read more
Rory Stewart put this belief to the test in some mammoth walks, one across several countries including Pakistan, Iran, Turkey and Afghanistan, and one weaving the length of Hadrian's Wall. Walking does seem to have a near miraculous capacity to ease stress and worry,...
read more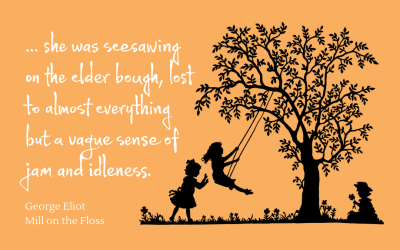 Maggie Tulliver is an adorable and vulnerable child, full of dreams, emotions and ideas, both affectionate and affection-craving. Here she loses herself in the freedom and joy of seesawing on a tree branch, with nothing in mind but 'a vague sense of jam and idleness'....
read more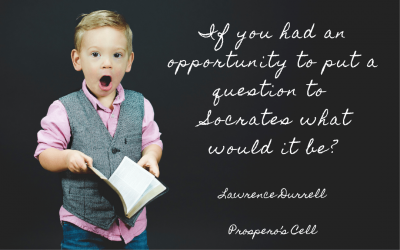 'If you had an opportunity to put a question to Socrates what would it be?' This is a quotation from Lawrence Durrell's enchanting exploration of the island of Corfu, Prospero's Cell. I have been pondering it for months and decided it was a good question to include in...
read more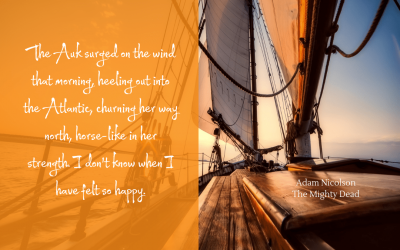 Those spectacular occasions when it all conspires in your favour, when the people, the place and the moment are perfect. And those 'black, liquid, effortless birds'!  The boat, too, 'horse-like in her strength'.Send me descriptions of such moments now and...
read more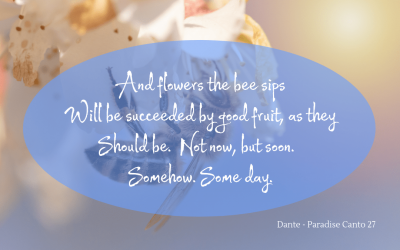 One of the sweetest sounds of spring is a blossom-bursting tree humming with a hundred bees. And after the blossoms fall and the bees move to the next awakening, you just wait for the fruit to grow and fall.  Not now, but soon, with that 'somehow, some day' carrying...
read more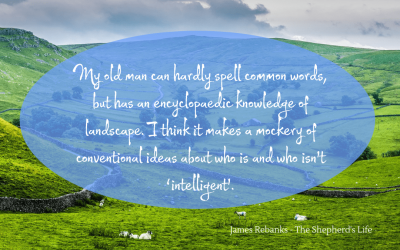 Our relationship with landscape fascinates me, particularly when it manifests in people who have a deep knowledge and love of a particular place, whether from an agricultural, historical, geological or other angle. This quotation is from a love letter to a landscape...
read more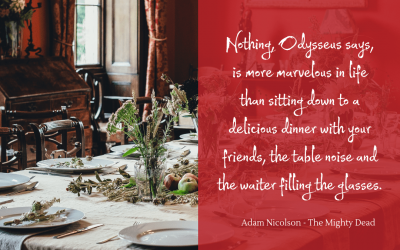 A delicious dinner with friends, the table noise, also the talk noise. In our case, these are mostly at home, so we are the waiters filling the glasses and plates. The summer is coming and if it is kind, we can hold most of those dinners in the garden, accompanied by...
read more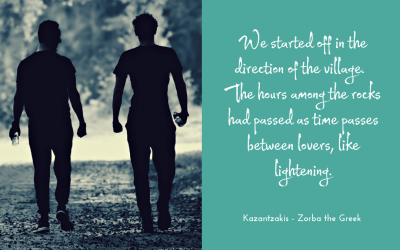 Isn't this a signal of perfect companionship, whether as friends, family or lovers? That hours pass like lightening? 'We started off in the direction of the village. The hours among the rocks had passed as time passes between lovers, like lightening.' Source:...
read more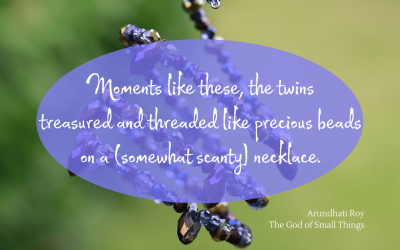 Arundhati Roy's heart-rending novel captures moments of intense sweetness, all the more precious for their rarity. Here the two children make of them a scant necklace of joy-beads. 'Moments like these, the twins treasured and threaded like precious beads on a...
read more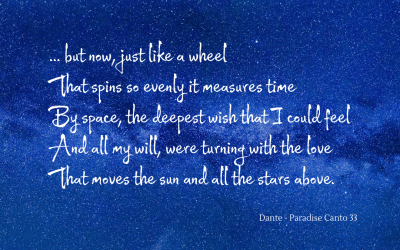 These closing lines of Dante's Divine Comedy, reached after a long upward journey from the pits to Paradise, leave you floating. And what internal harmony and congruity - your wishes and your will rotating in sync with the same universe-turning wheel. '... but now,...
read more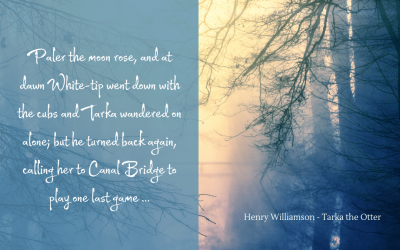 Having given birth to cubs, Tarka's mate goes her own way. But before they part company he calls her to play one last game at the bridge and she joins him there. I liked the timelessness of the otters' game which Williamson suggests has been played since 'before the...
read more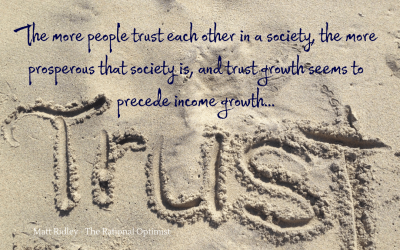 Trust is easy when it's there, but hard to generate when it's gone (or never arrived in the first place).  I was curious about Ridley's assertion that a relatively high trust quotient precedes income growth, rather than the other way round. Trust, apart from from...
read more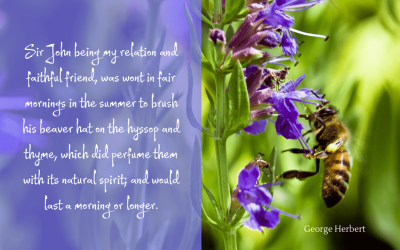 A lovely moment remembered by George Herbert and recorded by John Aubrey. Herbert's step-father, Sir John Danvers, had a charming habit of brushing his hat on hyssop and thyme to imbue it with their perfume. As I recently planted hyssop and several additional thyme...
read more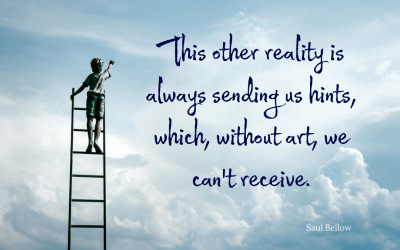 An intriguing thought, that art is the means to receive hints from another reality.  I am not sure what he means by it, but as I get older, I sense something more numinous.  And I like the idea of art as a kind of antenna - it was Ezra Pound who described poets as the...
read more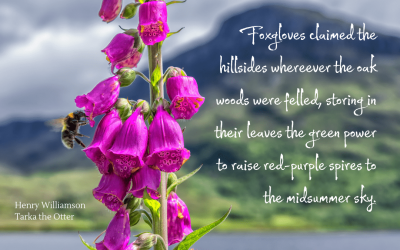 No, not wind turbines, nor solar panels. This is the green power that raises 'purple spires to the midsummer sky'. Foxglove power or, quoting Dylan Thomas, 'the force that through the green fuse drives the flower'.  I planted a few foxgloves recently and they grew...
read more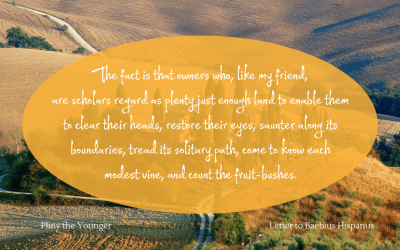 Pliny the Younger is a delightful correspondent when he isn't berating you for not having been in touch. His letters have an immediacy and freshness which makes me regret he isn't around for me to write to. Here he ponders how much land is adequate for the scholarly...
read more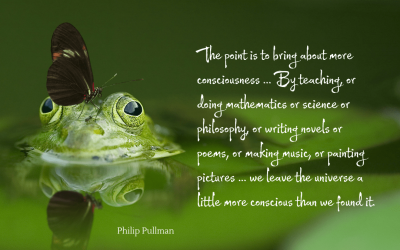 The eternal question. We can't know what the point is, nor even if there is one.  But in so far as we may need to believe that there is a point to it all, I liked the response given by the writer Philip Pullman: more consciousness, by whatever creative or benign route...
read more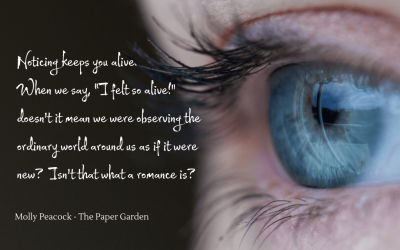 I notice more and more things. Recently saw a tiny new wildflower appear on our laissez-faire lawn. A new wild creeping thyme creeping in a new spot. A new pale blue butterfly I've never seen before. A new hedgehog ambling across the garden at the same time as the one...
read more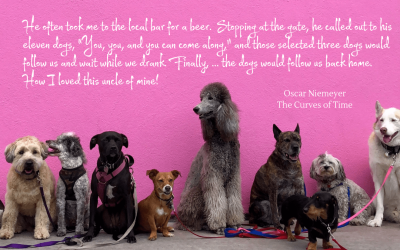 This wonderful anecdote by the Brazilian architect Oscar Niemeyer describes a beloved uncle who would take him to the bar for a drink. Before leaving, he would randomly select three of his eleven dogs to accompany them. This seems to have been perceived as a treat by...
read more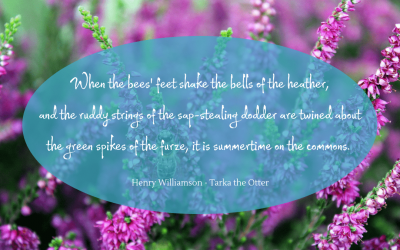 Two zooming micro-miracles singing the arrival of summer - bees' feet shaking heather bells and the 'sap-stealing dodder' twining around furze spikes. 'When the bees' feet shake the bells of the heather, and the ruddy strings of the sap-stealing dodder are...
read more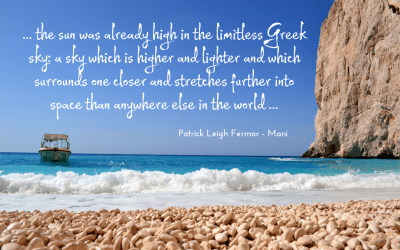 Not the first time I have seen or read of the soaring 'limitless Greek sky'.  It has something vaultingly, deeply, coolingly hyacinthine blue about it, making things seem clean, clear and uncluttered. You can stretch your spirit and limbs lying somewhere staring up at...
read more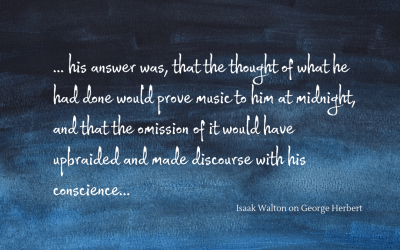 This account of the 17th century English clergyman and poet, George Herbert, stopping on his way to help a poor man, gives us an insight into his character. His friends asked him why he would sully himself to lend a hand and his answer has the lyricism which imbues...
read more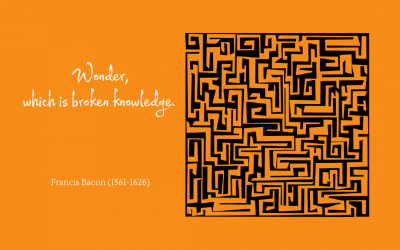 This caught my eye, a surprising definition of wonder, presented as 'broken knowledge'. I wondered if that meant 'incomplete' knowledge, the awe that comes of observing without understanding, but the scientist Richard Dawkins has pointed out that understanding the...
read more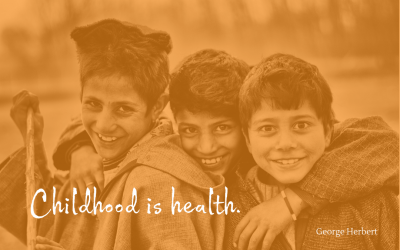 According to his biographer John Drury, the English poet George Herbert 'thought that it was better being a child than an adult', perhaps confirmed by the simple closing line to his poem 'Holy Baptism (II)', comprising three diamond-shaped verses of five lines rhymed...
read more
Or if you'd like to get in touch ...
Copyright: www.nuannaarpoq.com – Beatrice Otto 2020 – design and content, all rights reserved.  
Colours & fonts chosen for aesthetic strength and because their names reflect the mission of nuannaarpoq.com.  Colours: menu, header & text box: Warm Welcome by Quete80   I   footer: Be Happy by OrendaWhisper.  Fonts: sans serif: Ubuntu   I   script: Spirit of Dance by Vera Holera   I   serif: Lustria