Bea, your web site is spectacular. I love the colors, the approach, the design, the words.
Nancy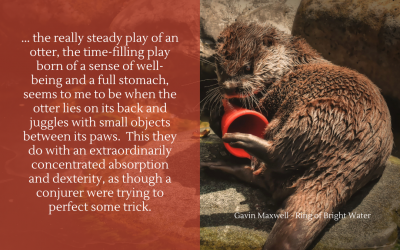 Otters seem to be the most nuannaarpoqian of animals.  Their life skills, resilience, confidence and playfulness captivated me when I read the evocative classic Tarka the Otter, celebrated here with rich pickings of quotes and metaphors.  Another classic, Gavin...
read more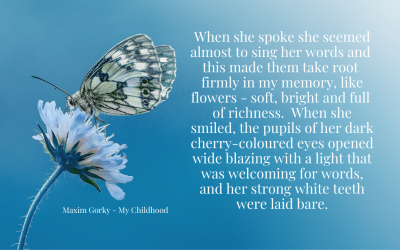 A magnificent description of those most ephemeral of physical traits, a person's way of speaking and the expression of their eyes.  Gorky's grandmother was a wonderful character and I hereby nominate her for a Nuannaarpoq Award.  (Soon I will line up a handful of...
read more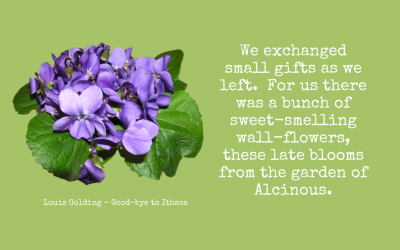 What a lovely moment, the exchange of small, loving gifts, with Golding and his friend receiving a bunch of fresh picked garden flowers. We enjoy such exchanges with one of our neighbours in the form of food gifts - when either of us bakes, something gets taken over...
read more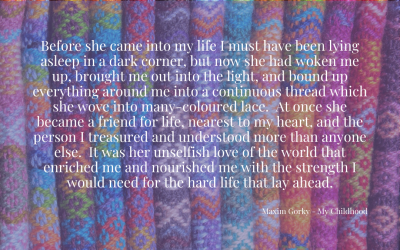 Certainly the strongest and most loving influence on Gorky's troubled childhood was his grandmother.  Her capacity to maintain her belief in life and humanity despite repeated evidence of its worst aspects, is astonishing.  Here Gorky pays tribute to the power of her...
read more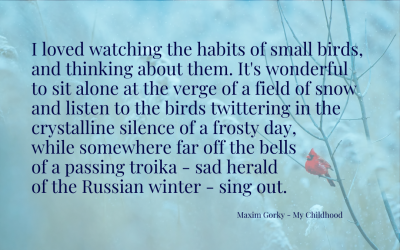 I'm with Gorky on this one, and spend plentiful moments watching the birds in the garden.  Their cheeriness and resilience even on blastingly cold winter days never ceases to impress me.  Mainly, we have blackbirds, coal- and blue-tits, a feisty robin, and perky...
read more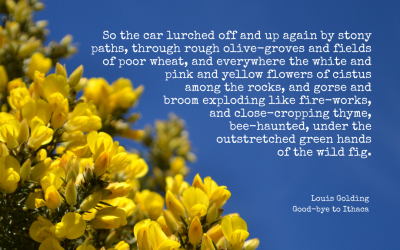 Golding took several decades to realize his dream of visiting Ithaca, and a few months to make his own odyssean journey there by way of Troy.  Many of his descriptions of this and other Greek islands are intoxicating in their brightness and warmth, particularly as one...
read more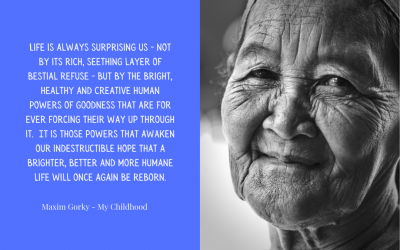 An impressively positive assertion coming from someone who both witnessed and directly suffered from the 'seething layer of bestial refuse' of which humans are capable.  Gorky's childhood memoir is a testimony to emotional and physical resilience in the face of...
read more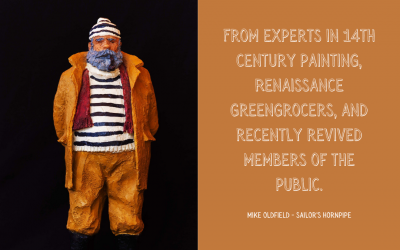 This one I discovered by accident, tucked away at the end of the album for which its composer is famous, namely Tubular Bells.  I bought the CD second-hand in a moment of nostalgia and was unexpectedly disappointed in revisiting the Tubular Bells piece, but it was...
read more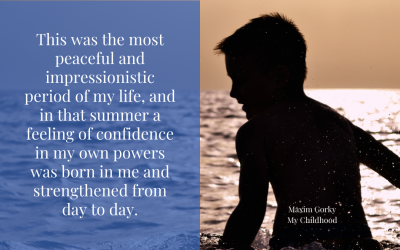 There are many such luminous moments, often in the presence of his resilient, joyous grandmother, in the childhood memoirs of Gorky.  These stand out all the more given the often staggering levels of cruelty to which he, and even she, were subjected.  It was a world...
read more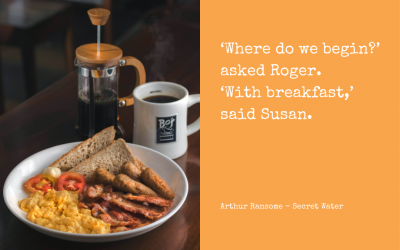 Wondering how best to get this bright new year off to a good start?  Follow this sound advice from the Swallows & Amazons family.   I got up early to make what I thought were muffins until, having liberally adapted the recipe, I realized it was meant to be for...
read more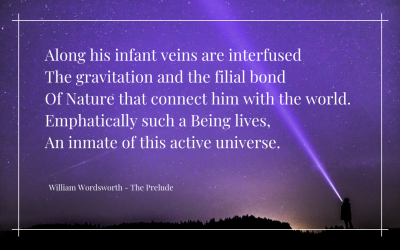 This current and timeless phrase - with that curious 'inmate' alongside the energetic 'active' - comes from Wordsworth's image of himself as an infant, tapping into some greater connectivity than mere wifi systems and smart phones. It reminds me of E.M. Forster's...
read more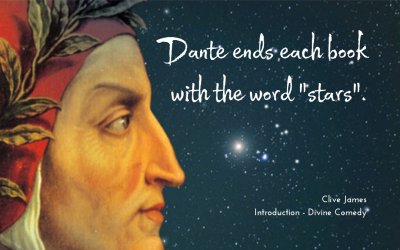 On this day, which many of us celebrate as being connected in some way to light and at very least to peace on earth and goodwill to all, let's enjoy the little known fact that in the Divine Comedy: Dante ends each book with the word "stars".And so he does, this...
read more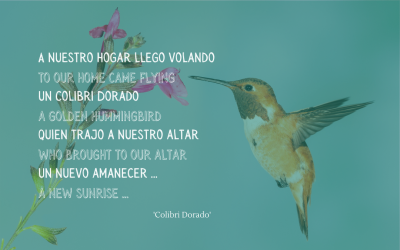 Wanted to share a few lines from the song 'Colibri Dorado'.  Below you'll see some of the lyrics with an English translation provided by a listener. I also liked a comment, surely a nuannaarpoq moment, shared by Elena Rincon (approximate translation follows):'Una...
read more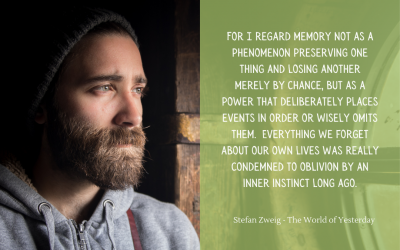 A surprising interpretation of remembering and forgetting by Stefan Zweig, attributing them to an instinctive filter choosing or discarding what sticks in the memory.  It's particularly touching because the book which features this idea was a huge act of remembering,...
read more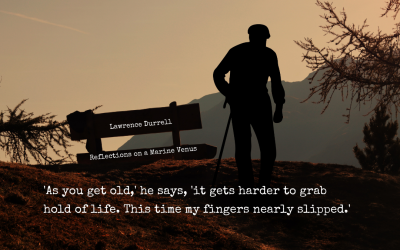 This year has seen a surfeit of old people whose hold on life has slipped.  Hoyle is an ornery character but one who nevertheless has the spirit of nuannaarpoq, partly by turning a health problem to good use: easily out of breath when he walks, he just walks more...
read more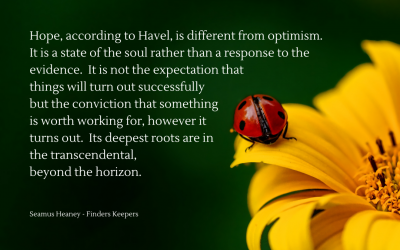 A few years ago a friend commented that I was an optimistic person.  My response was that optimism isn't necessarily a question of personality, but can sometimes be a matter of choice.  If I dwell on the things that concern me about the world, I can feel as...
read more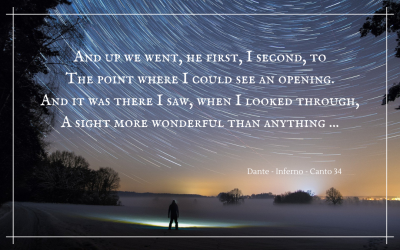 As this strange and straitened year draws to a close, we could do with some fresh openings.  These lines are from the end of Dante's Inferno, as he takes a step away from the torments of Hell towards Purgatory.  In other words, he isn't yet out of the woods, but he...
read more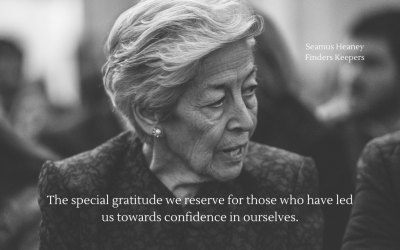 This is the first time I have seen this thought articulated, that we reserve a particular gratitude to those who have helped us develop confidence.  For me, they would include a number of teachers, from primary school up to post-graduate research, a village doctor who...
read more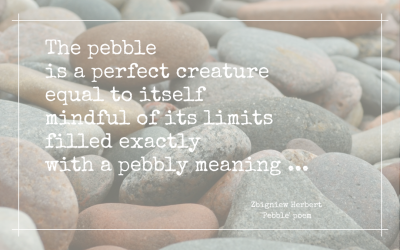 As a life long pebble pusher, I spend some gardening time singling out pebbles for their beauty, whether of form, texture or colour, translucence or opacity, perfection or imperfection.  They decorate the edges of paths or flower beds or circle plants and pots, and I...
read more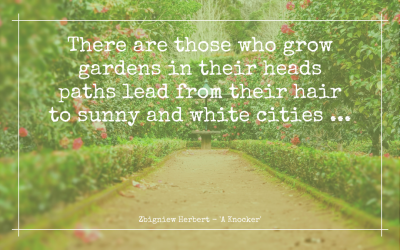 A marvelous way to describe the magic-makers of the world, whether they grow their gardens in writing or any other medium.  People from whose heads paths lead to sunny cities! Do you know anyone this could describe?  I can only think of a few people with this quality,...
read more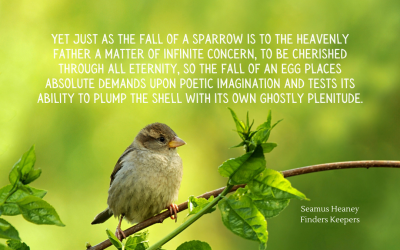 As Seamus Heaney describes it, this is a 'heavenly father' who makes wonderful use of the quality of omnipotence, by drawing on his boundless attention, energy and bandwidth to cherish every fallen sparrow, egg or other fragile life form, through all eternity. Yet...
read more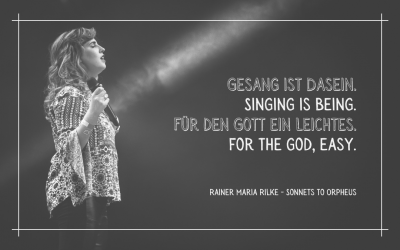 Does this line from one of Rilke's sonnets mean we can say 'I sing therefore I am'?  Easier for gods than humans, Rilke tells us, but let's give it a go, I am sure the gods rejoice when we try.    Gesang ist Dasein. Für den Gott ein Leichtes. Singing is being. For the...
read more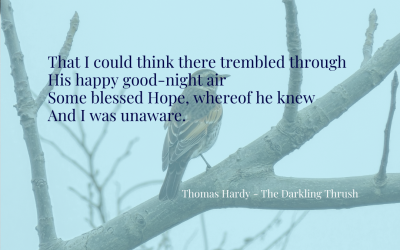 How is it that birdsong can give us such a sense of hope?  Today I was walking up into the woods and heard a bird I haven't heard for years.  Hearing it, with instant recognition, transported me to repeated moments earlier in my life when that same song imbued me with...
read more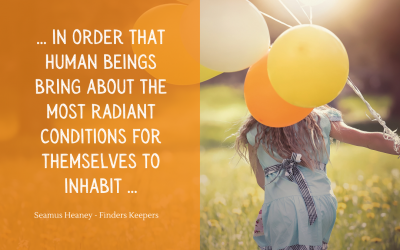 This lovely phrase, in a collection of essays by the poet Seamus Heaney, struck me as being in large part what the world is aiming for when it talks about sustainability, sustainable development goals and related rather dry terms. It is combined with an interesting...
read more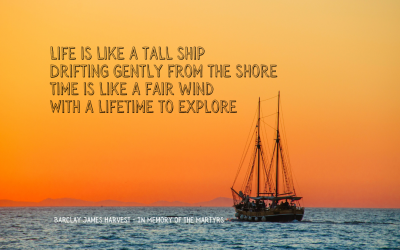 Recently found a scrap of paper with a list of 1960s-1980s progressive rock and similar bands.  I believe I may have jotted them down in a conversation with one of my brothers during which we were revisiting songs we listened to at the time.  To show you how young I...
read more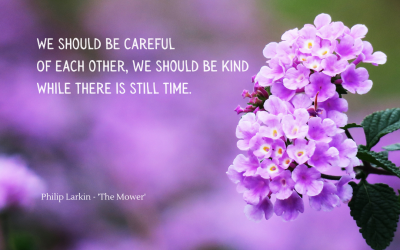 Philip Larkin's simple plea for kindness feels a timely reminder that yes, while there is still time, we should be kind to one another, whether that hint of time's limits applies to us as individuals, or to humanity more generally.And if it feels as though there isn't...
read more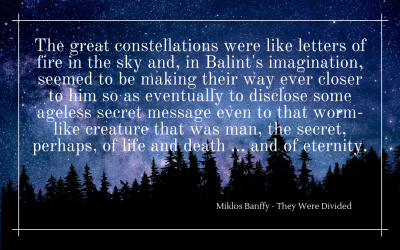 Balint is the protagonist of a wonderful trilogy chronicling the declining decades of the Hungarian aristocracy in the years leading to the First World War.  He is also one of its most thoughtful, endearing characters.  Here he ponders a moment beneath a night sky and...
read more
Grossman quotes the Greek and also used this as the title of one of his books.  The eternal river, always flowing, always changing, and always the same. May it carry you safely.  "Everything flows, everything changes," said the Greek. Source: Vasily Grossman, 'Eternal...
read more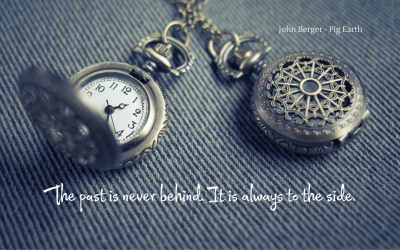 Ah, now I see why I always see it, it is with me, not behind me.  I am lucky enough to have experienced life in such a way that the past constitutes a trove and not a hobble. The past is never behind. It is always to the side. Source: John Berger, Pig Earth, quoted in...
read more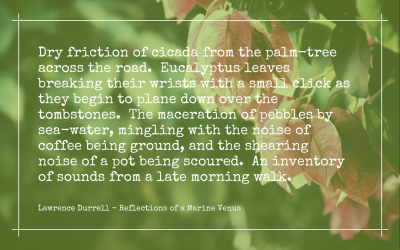 A moment captured in sounds by an alert listener as he walks.  Noting the precious details of the world is for me a strong element of living in the spirit of nuannaarpoq.  Perhaps we could parachute in on one sense or another, sight, hearing, smell, and focus it on a...
read more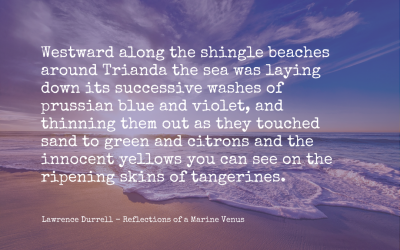 A wonderful array of colours washing in and out of each other with the sea soughing the shore.  It would have taken a sharp eye to spot this spectrum of subtle hues.  Have you ever studied the sky and actually tried to name the range of colours it can present? The...
read more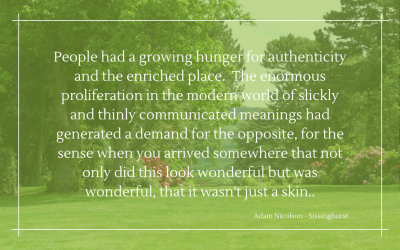 A favourite four-character phrase in Chinese is biao li ru yi meaning something like 'surface-inside-as-one', in other words being what you seem, which is to say, authentic.  It soon presented itself as an essential component of a nuannaarpoq manifesto. Here Adam...
read more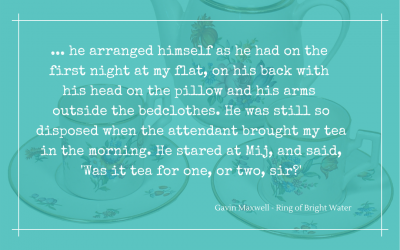 Dogs are playful but otters are surely the arch-nuannaarpoqians of the animal world.  Here Gavin Maxwell takes his friendly otter on the sleeper train with him, and the animal settles into his bunk in such a human stance that the attendant, bringing tea in the...
read more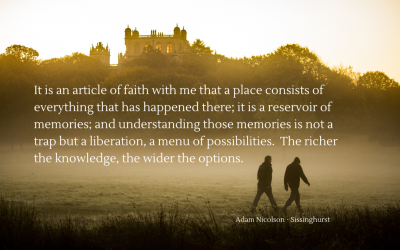 I had never realised that this is perhaps an article of faith with me until I read of Nicolson's belief in place as a repository of memory.  I remember stepping into a house beautiful in its architecture, position, layout and furnishings, but so steeped in sadness...
read more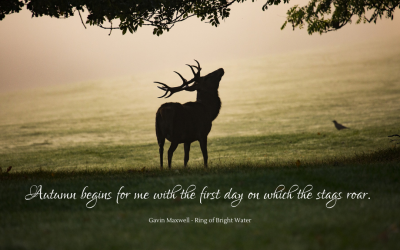 Officially, around 21st September, and this year it arrived with the precision of a Swiss watch.  But sometimes it can slip its calendar moorings, and choose another moment.  I loved this marker of Gavin Maxwell's. Autumn begins for me with the first day on which the...
read more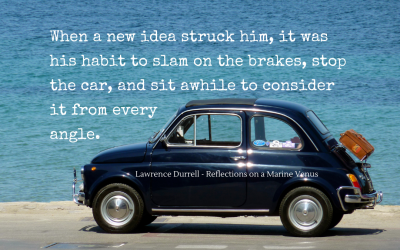 I love this description of the eccentric British Consul in Rhodes after the war.  The better to mull over a newly striking idea, he would precipitously slam on the brakes of the car and give it his full mental attention. Only hope he looked in the rear-view mirror...
read more
Insights into creativity and innovation in the song of the nightingale - I particularly like how he draws on what he already knows, as we can draw on our past, both personal and collective, to forge the new.  And 'gurgle-beauty', what a lovely notion! Every snatch of...
read more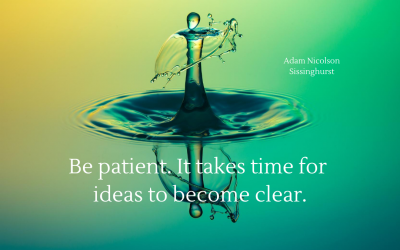 A simple injunction, but timely, always. Be patient. It takes time for ideas to become clear. Source: Adam Nicolson, Sissinghurst: An unfinished history (London: Harper Press, 2009), p. 120Photo credit: Quadronet_Webdesign at pixabay
read more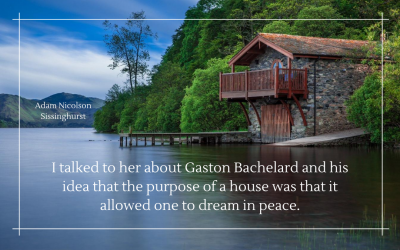 To provide shelter?  A roof over your head? Security at night from wolves and thieves? A place to stash your stuff?  Yes, maybe, all those things and more. But also this: a place to dream in peace. I talked to her about Gaston Bachelard and his idea that the purpose...
read more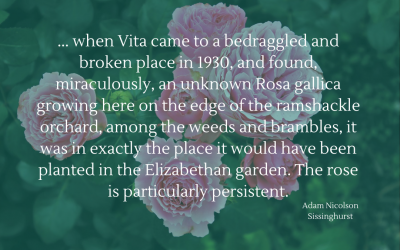 Adam Nicolson describes his grandmother finding an unknown tenacious rose in the ruinous place which she renovated and transformed into today Sissinghurst Gardens.  I like that this rose is indestructible and might, just might, trace its roots to the original...
read more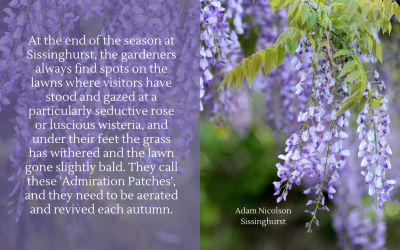 Nobody hatched or planned the idea of Admiration Patches.  Instead, they were unconsciously crowd-created by individuals literally 'voting with their feet'.  The gardens at Sissinghurst have thousands of visitors and by the end of the open season, their admiring eyes...
read more
Or if you'd like to get in touch ...
Copyright: www.nuannaarpoq.com – Beatrice Otto 2021 – design and content, all rights reserved.  
Colours & fonts chosen for aesthetic strength and because their names reflect the mission of nuannaarpoq.com.  Colours: menu, header & text box: Warm Welcome by Quete80   I   footer: Be Happy by OrendaWhisper.  Fonts: sans serif: Ubuntu   I   script: Spirit of Dance by Vera Holera   I   serif: Lustria