Bea, your web site is spectacular. I love the colors, the approach, the design, the words.
Nancy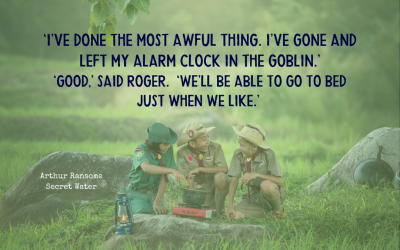 One of the joys of leaving a job is the growing awareness that waking becomes a natural process, rather than an aural shock.  This doesn't necessarily mean waking late, just naturally, and I still get up as early as I ever did, about six in the winter and five on...
read more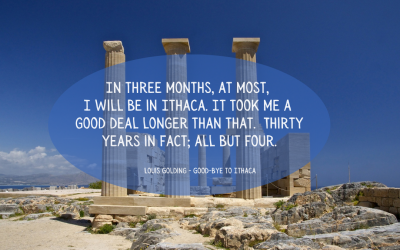 Golding, sailing past the island of Ithaka, thought he would return and land within a few months.  Then war and life intervened, and it took him more than a quarter of a century.  Which goes to show, hang on to your dreams long enough and they can come true.  Or, more...
read more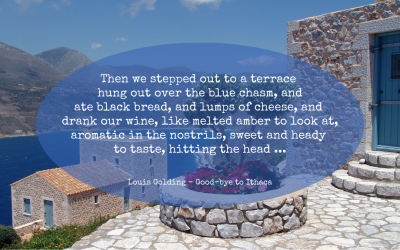 It is unbelievable how good bread and cheese can taste, washed down with some form of liquid amber, when you are on a terrace over a blue chasm, or sitting on a rock or a bench during a hike or a bike ride. I love such moments captured and committed to memory so we...
read more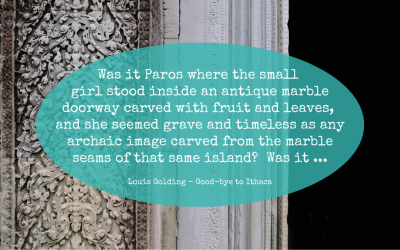 Golding sails from island to island on a land and sea alternating odyssey, and at some point, overwhelmed by enchantment, his memory of moments merge into the map of his travels so he can't quite recall what happened on which island.  But the memories are still vivid,...
read more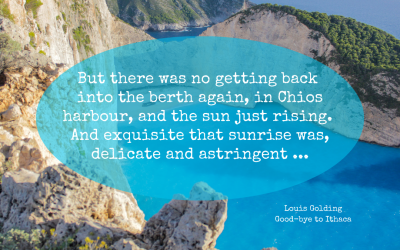 What a dazzling description of watching a sunrise from a ship, contrasted perfectly with a preceding sunset.  The miracle of both, eternal and always new.  But there was no getting back into the berth again, in Chios harbour, and the sun just rising. And exquisite...
read more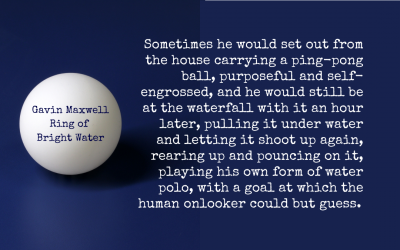 The capacity of otters to play and to turn anything they find into a game, is breath-taking.  Here is one, having worked out the ludic possibilities inherent in the physics of ping-pong balls, setting off to entertain himself for an hour or two at a stretch.   You can...
read more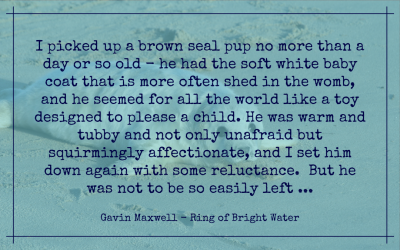 An astonishing account of a newborn seal pup responding to a passing cuddle from a human.  I liked too that in the end his mother's love, even in a telling off, proved the stronger attraction. Once ... I picked up a brown seal pup no more than a day or so old - he had...
read more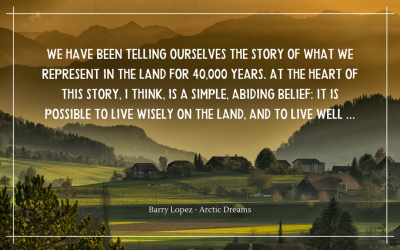 Isn't this all we're trying to do when we talk about 'sustainability', 'circular economy', or climate change?  When it's put so simply, it sounds easy, but we have a long way to go before we can see our stifling ignorance fall away. We have been telling ourselves the...
read more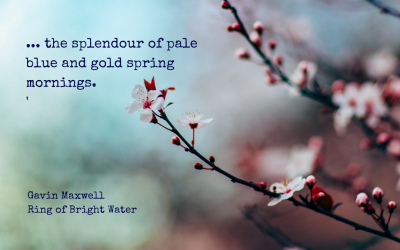 Spring mornings, perfectly wrapped up in two glowing hues.   And here, enjoy another evocative combination of blue and gold. ... the splendour of pale blue and gold spring mornings. Savour also a morning summed up in sound rather than colour.  Source: Gavin Maxwell,...
read more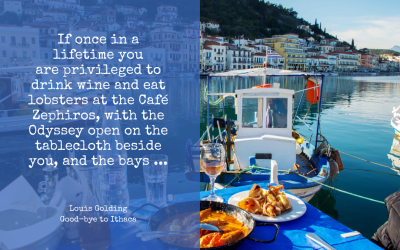 Golding describes a moment, a scene, on the island of Corfu, experienced during his own odyssey in search of Ithaka.  I like that he wants us to share that moment, as elsewhere he sends a note to the future.  And if you were to describe a moment that you wish others...
read more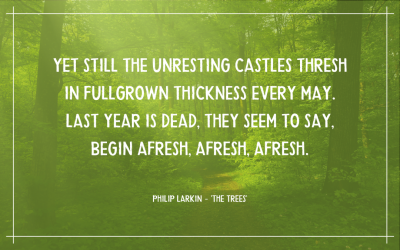 A soughing sense of spring surging in the dense-leaved trees.   You can hear the branches, brushing against each other in the dancing breeze, whispering like a wish in your ear, enticing you to begin afresh, afresh, afresh. Yet still the unresting castles threshIn...
read more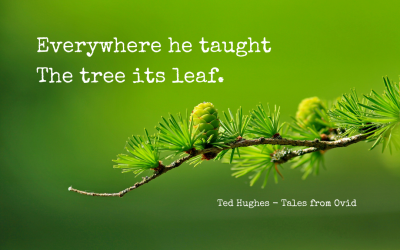 A step in the process of creation, where the Creator takes a moment to teach the tree its leaf.  They learned well, and this is the season we see them unfurl their lessons, each perfectly mastered. Everywhere he taughtThe tree its leaf.  Source: Ted Hughes, 'Creation;...
read more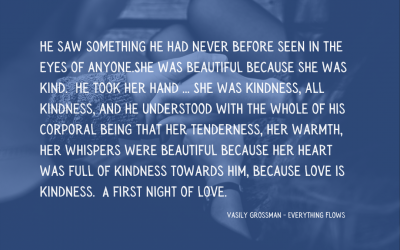 After decades in a concentration camp, this man finds love in kindness.  After being released from the clutches of the gulag, he rents a room in the flat where she lives with her son.  Over time, he sees her kindness, and in it, beauty, and finds a period of love,...
read more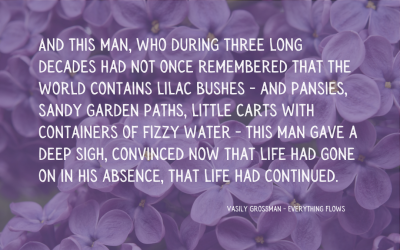 This man is one who returns from the dead, from decades in a gulag in Siberia, released during one or another political thaw.  He returns to 'normal' life, and it is interesting to see the signs of it which make him realise it had continued even as he was barely...
read more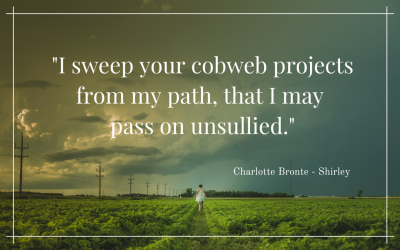 Shirley is among the less known works of Charlotte Bronte.  At a time when women had considerably fewer options in deploying their energies and talents, Shirley is a strong character with attitude and resources.   I loved the 'Pah to all that' feeling in this...
read more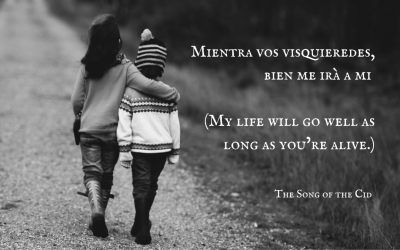 One day I decided not to rely solely on Charlton Heston's interpretation of El Cid but to go to the original (with the aid of a parallel translation).  The epic Song of the Cid dates from around the second half of the 12th century and in places has a touching...
read more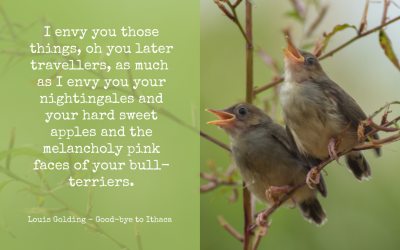 I'm always touched by people connecting to us from the past, throwing their light into an unknown future in addressing, in a human and friendly way, people not even born.  George Eliot and Charlotte Bronte do this by addressing readers directly, and you, reading 150...
read more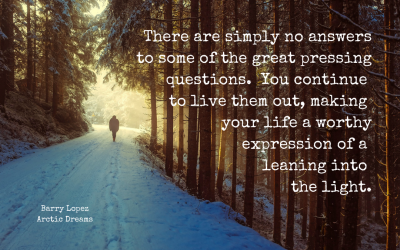 The candour of this statement struck me, and also reassured me that my own paltry attempts at living a 'moral and compassionate existence' are no worse than can be expected of an average human in a human world.  I accepted very young that questioning is part of being...
read more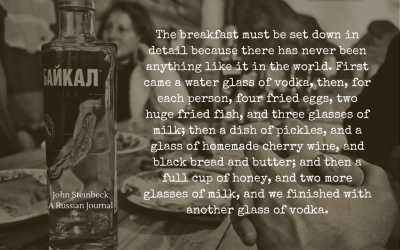 I like detailed descriptions of meals and picnics. Here Steinbeck sets down in detail a stupendous and outrageously over-rich breakfast laid before him and Robert Capa on their travels in Ukraine. Remember, this was a country which had suffered one of the world's...
read more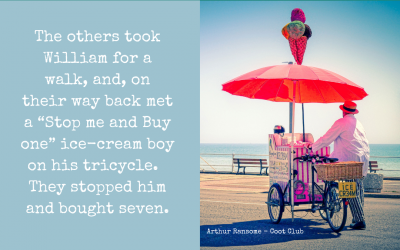 A lovely moment on a children's walk - I like how they follow the instructions with such verve; meeting a boy selling ice-cream, they stop him and practically buy up his stock. Also can't resist the inevitable pun that comes of combining 'ice-cream' and 'tricycle'...
read more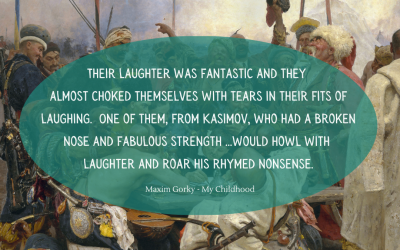 The boy Gorky was much impressed by a group of Tartars he met with his buddies, and in particular of their capacity to laugh.  I liked his description of their untrammelled merriment, despite the roughness of their lives. Carry on laughing!  Their laughter was...
read more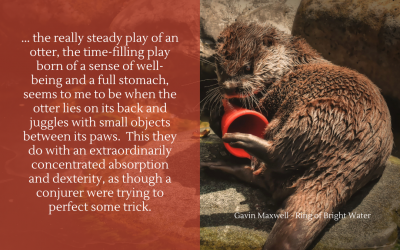 Otters seem to be the most nuannaarpoqian of animals.  Their life skills, resilience, confidence and playfulness captivated me when I read the evocative classic Tarka the Otter, celebrated here with rich pickings of quotes and metaphors.  Another classic, Gavin...
read more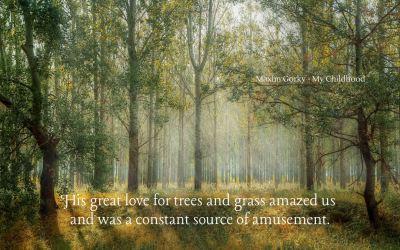 Hard not to love someone who is known, and even mocked, for his great love of trees and grass.   Gorky met many unusual characters in his childhood and thanks to his memoirs, they have not vanished without trace, but can be liked and admired by succeeding generations...
read more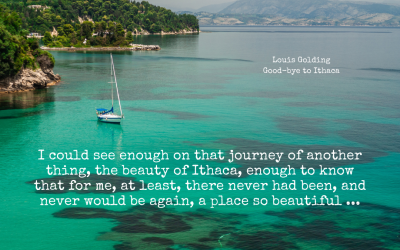 After about three decades and three months, Golding finally realized his war-postponed dream of visiting Ithaca.  With such a level of high expectation and anticipation, you might expect the reality of the place to disappoint.  Anything but, it transported him and was...
read more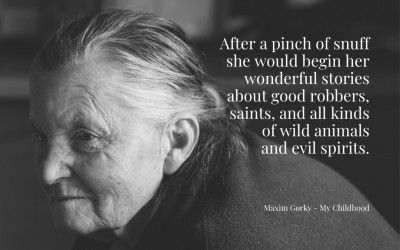 Gorky's grandmother probably ensured his psychological and possibly physical survival, somehow rescuing him with her luminous spirit and her fantastic story-store. There seems to have been no end to the stories she spun, though it isn't clear whether she made them all...
read more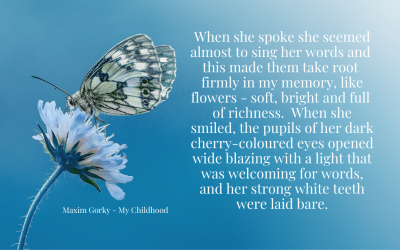 A magnificent description of those most ephemeral of physical traits, a person's way of speaking and the expression of their eyes.  Gorky's grandmother was a wonderful character and I hereby nominate her for a Nuannaarpoq Award.  (Soon I will line up a handful of...
read more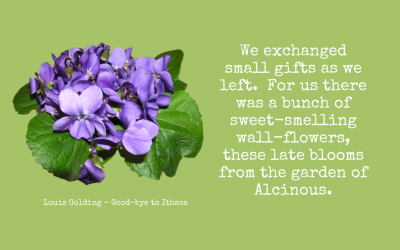 What a lovely moment, the exchange of small, loving gifts, with Golding and his friend receiving a bunch of fresh picked garden flowers. We enjoy such exchanges with one of our neighbours in the form of food gifts - when either of us bakes, something gets taken over...
read more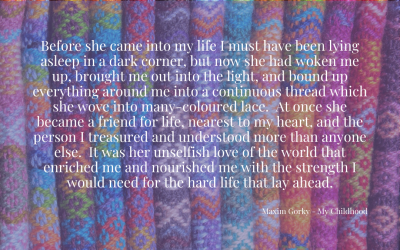 Certainly the strongest and most loving influence on Gorky's troubled childhood was his grandmother.  Her capacity to maintain her belief in life and humanity despite repeated evidence of its worst aspects, is astonishing.  Here Gorky pays tribute to the power of her...
read more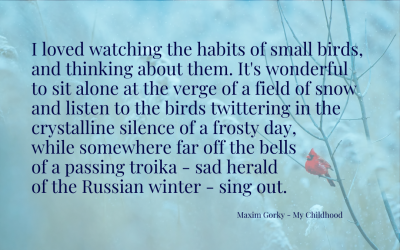 I'm with Gorky on this one, and spend plentiful moments watching the birds in the garden.  Their cheeriness and resilience even on blastingly cold winter days never ceases to impress me.  Mainly, we have blackbirds, coal- and blue-tits, a feisty robin, and perky...
read more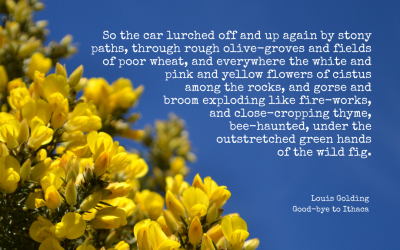 Golding took several decades to realize his dream of visiting Ithaca, and a few months to make his own odyssean journey there by way of Troy.  Many of his descriptions of this and other Greek islands are intoxicating in their brightness and warmth, particularly as one...
read more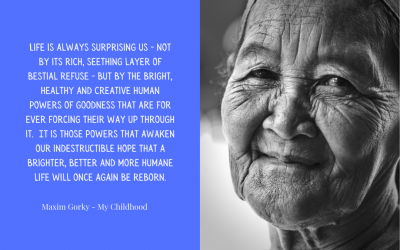 An impressively positive assertion coming from someone who both witnessed and directly suffered from the 'seething layer of bestial refuse' of which humans are capable.  Gorky's childhood memoir is a testimony to emotional and physical resilience in the face of...
read more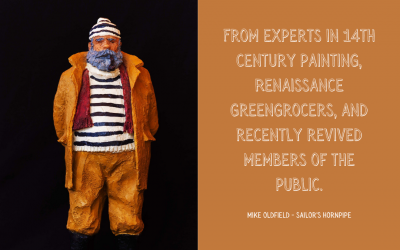 This one I discovered by accident, tucked away at the end of the album for which its composer is famous, namely Tubular Bells.  I bought the CD second-hand in a moment of nostalgia and was unexpectedly disappointed in revisiting the Tubular Bells piece, but it was...
read more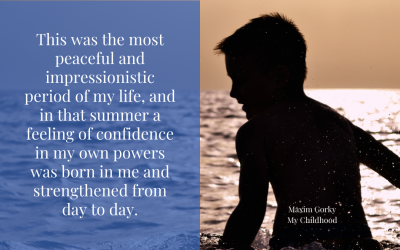 There are many such luminous moments, often in the presence of his resilient, joyous grandmother, in the childhood memoirs of Gorky.  These stand out all the more given the often staggering levels of cruelty to which he, and even she, were subjected.  It was a world...
read more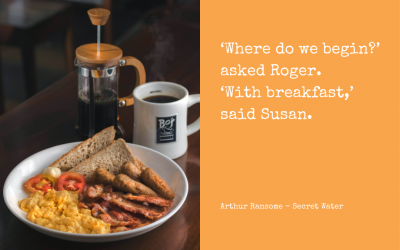 Wondering how best to get this bright new year off to a good start?  Follow this sound advice from the Swallows & Amazons family.   I got up early to make what I thought were muffins until, having liberally adapted the recipe, I realized it was meant to be for...
read more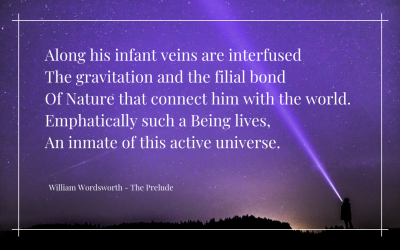 This current and timeless phrase - with that curious 'inmate' alongside the energetic 'active' - comes from Wordsworth's image of himself as an infant, tapping into some greater connectivity than mere wifi systems and smart phones. It reminds me of E.M. Forster's...
read more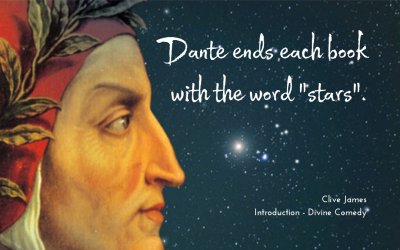 On this day, which many of us celebrate as being connected in some way to light and at very least to peace on earth and goodwill to all, let's enjoy the little known fact that in the Divine Comedy: Dante ends each book with the word "stars".And so he does, this...
read more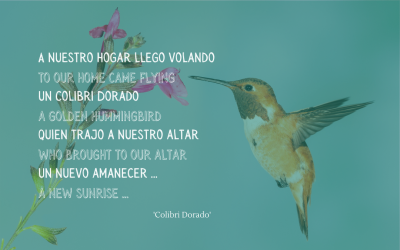 Wanted to share a few lines from the song 'Colibri Dorado'.  Below you'll see some of the lyrics with an English translation provided by a listener. I also liked a comment, surely a nuannaarpoq moment, shared by Elena Rincon (approximate translation follows):'Una...
read more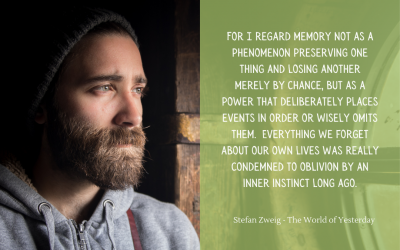 A surprising interpretation of remembering and forgetting by Stefan Zweig, attributing them to an instinctive filter choosing or discarding what sticks in the memory.  It's particularly touching because the book which features this idea was a huge act of remembering,...
read more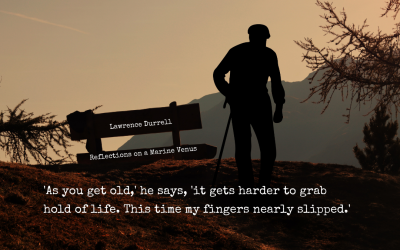 This year has seen a surfeit of old people whose hold on life has slipped.  Hoyle is an ornery character but one who nevertheless has the spirit of nuannaarpoq, partly by turning a health problem to good use: easily out of breath when he walks, he just walks more...
read more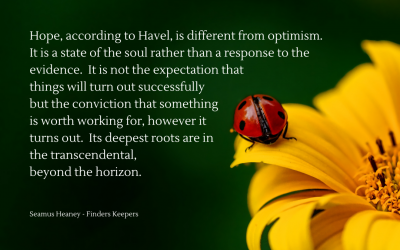 A few years ago a friend commented that I was an optimistic person.  My response was that optimism isn't necessarily a question of personality, but can sometimes be a matter of choice.  If I dwell on the things that concern me about the world, I can feel as...
read more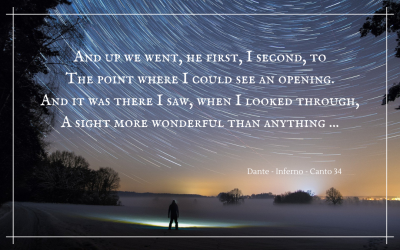 As this strange and straitened year draws to a close, we could do with some fresh openings.  These lines are from the end of Dante's Inferno, as he takes a step away from the torments of Hell towards Purgatory.  In other words, he isn't yet out of the woods, but he...
read more
Or if you'd like to get in touch ...
Copyright: www.nuannaarpoq.com – Beatrice Otto 2021 – design and content, all rights reserved.  
Colours & fonts chosen for aesthetic strength and because their names reflect the mission of nuannaarpoq.com.  Colours: menu, header & text box: Warm Welcome by Quete80   I   footer: Be Happy by OrendaWhisper.  Fonts: sans serif: Ubuntu   I   script: Spirit of Dance by Vera Holera   I   serif: Lustria