I really like it. It looks beautiful, the colours are lush and it's a refreshing perspective on the world. I love the idea of excellent dates engaging with Pliny's figs and mushrooms, your thought provoking note on innocence, and the concept of the songs of men deep in the heart of grape buds.
Nicki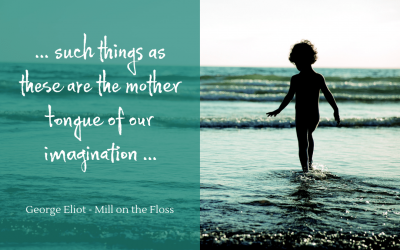 A lovely notion in George Eliot, that our imagination has its own mother tongue.  It made me realize how much of my imaginative world was indeed seeded by my mother. I can't even put my finger on how she did it, other than by simply being an imaginative person and...
read more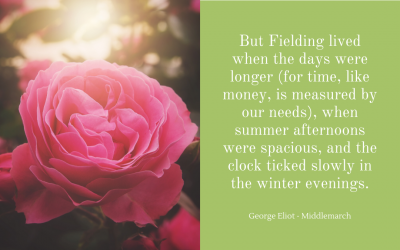 We tend to think of time poverty as a feature of modern life. I was curious that George Eliot, writing in the middle of the 19th century, looked back to Henry Fielding's time, a good hundred years earlier, noting that time, in his time, was more abundant.Striking too...
read more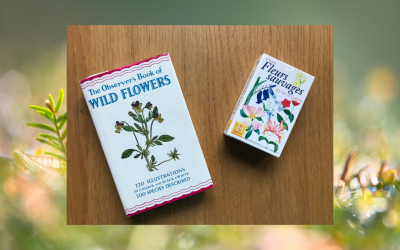 Spontaneously, during this period of self-isolation we have been walking (and in Luiz's case, biking) more. We are surrounded by countryside and can walk or bike for hours barely crossing paths with others, and if so, at well over the required two metres. Building up...
read more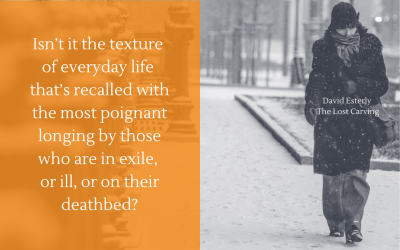 This thoughtful reminder of the splendour of everyday happiness made its way into the nuannaarpoq pipeline long before the world we love was swept by pandemic. How many of those in quarantined 'exile', or ill, or on their deathbed may be recalling with longing those...
read more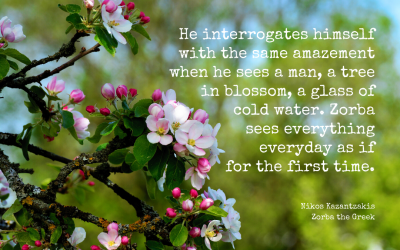 One of the tricks of nuannaarpoq living, as far as I can see, is to remain wide-eyed and open-hearted, to view and experience things as if they are new, even if they are quotidian. It is this quality, along with sheer unbounded exuberance, which wins Zorba a...
read more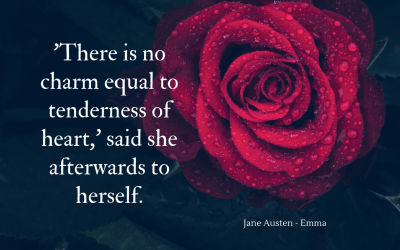 Emma's development from a clever girl into an intelligent woman includes a growing appreciation for tenderness and sensitivity to others. Here she notes the charm of tenderness. ''There is no charm equal to tenderness of heart,' said she afterwards to herself.' ...
read more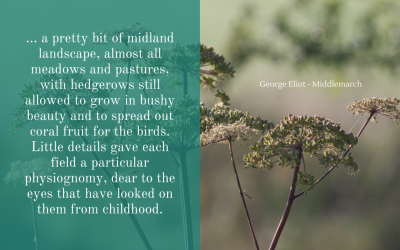 One of the delights of repeated exposure to a landscape is the growing level of granularity in our observation and enjoyment of it. A hedgerow or embankment or copse yields more beauty and variety the more we see it. Here George Eliot evokes the tenderness of...
read more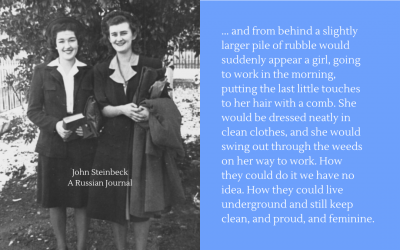 During their month long trip to the Soviet Union after the Second World War (and during the Cold one), John Steinbeck and Robert Capa spent a few days in the bombed out siege-opolis of Stalingrad, where they found human scenes, some startling in their extremity and...
read more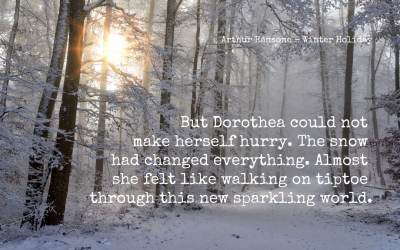 As winter is ushered out the door ever earlier and the last of the snow visible on the Jura melts, I wave goodbye to it with this magical moment. Snow may become something of a rarity in a warming world.In any case, do not make yourself hurry.'But Dorothea could not...
read more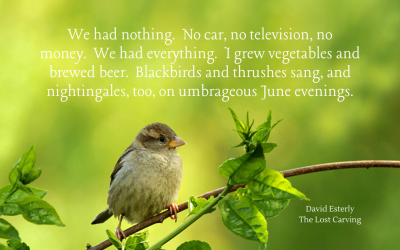 Lovely description of those precious moments when having nothing doesn't get in the way of having everything. We are lucky, we have some things and we have everything: trays of flower and vegetable seedlings are soaking up the spring warmth on the terrace; blackbirds...
read more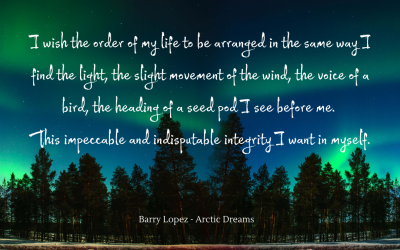 Barry Lopez came up with this touching idea of comparing perfect integrity in a human life to aspects of nature: the way light works, wind moves, birds sing, or seed pods burst. They are all good models for coherence in life. 'I wish the order of my life to be...
read more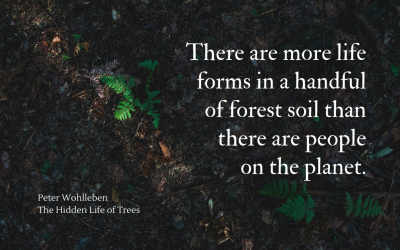 I started viewing handfuls of healthy soil, forest or otherwise, with new respect when I learned of their teeming life forms.  That awareness has now extended to including rotting old tree trunks and stumps, smothered with moss and lichen and countless invisible...
read more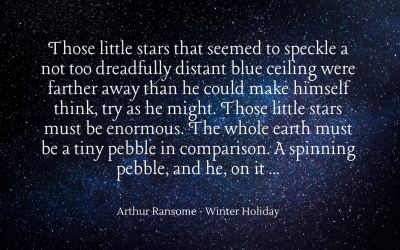 A lyrical description of a boy's realisation that the world is a tiny pebble compared to the stars he is learning to observe. He swings from an awareness of our insignificence to the fact that he has something vast to commend him: knowledge and understanding. 'Those...
read more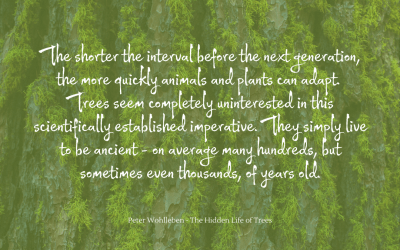 Long live trees. I love this observation by a dendrologist who has brought to our attention the hidden life and communication of trees. I also love that trees operate on their own timescale and in so doing display an apparent disinterest in a 'scientfically...
read more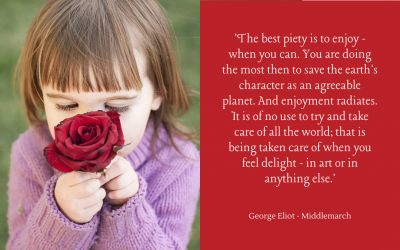 We tend to think of piety as being about prayer or action - addressing God or doing good. We know there are many things we should be doing to Save the Earth or Protect the Planet.  Here, in the mid-19th century, is another view, which has a surprisingly modern ring to...
read more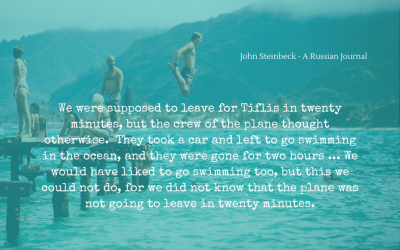 A wonderful anecdote to read about someone else; of course it would be infuriating if it happened to you. Nevertheless, I can't but enjoy this account by Steinbeck of being left stranded at an airport in Soviet Georgia for the very good reason that the crew decided...
read more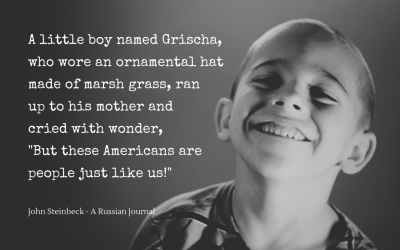 At the height of the Cold War when Westerners were facing down Russians and vice versa, John Steinbeck and Robert Capa got it into their heads to hop over to the Soviet Union to see for themselves. Visiting three Soviet republics, they finally concluded that the...
read more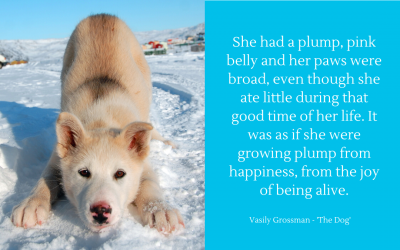 Another beautiful description of a young dog's capacity for joy and playfulness, even when hungry and abandoned. Vasily Grossman seems to have had a particular sensitivity to animals and appears to convey the deeper reverberations of their souls.  Whether this is...
read more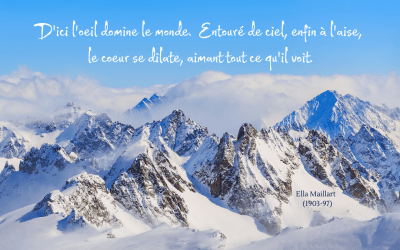 The Swiss explorer and travel writer, Ella Maillart (1903-97), spent the second half, or third age, of her adventurous life in the Alpine village of Chandolin at 2,000 metres. We spotted this quotation during a walk through the snow, on an engraving featuring the...
read more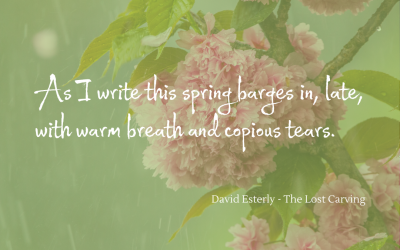 A beautiful, exuberant image of spring as an emotional and late arriving guest or friend, with its heavy showers transformed into 'copious tears'.  Welcome, spring, tears and all.  We need them to help the summer grow. 'As I write this spring barges in, late, with...
read more
A fascinating comment by a very individual mind on exactly that, individuality and its creative capacity. While I believe also in the power of combined minds, and don't agree with Steinbeck's 'the only creative thing our species has', I do believe that such creative...
read more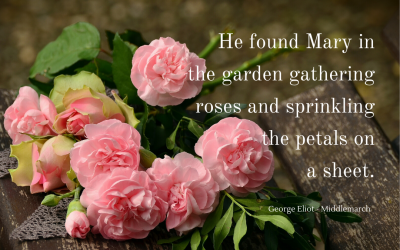 A beautiful, bright image. Mary is one of the finest characters in Middlemarch, with a sure touch and a strong inner light that outshines her outward lack of beauty. She gains and retains the love of a man who needs her steadying strength to right himself. Here he...
read more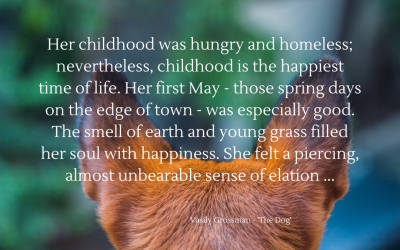 A beautiful description of the sheer, unbounded joy of being alive in a small mongrel dog who finds herself on the streets of a Russian city. Grossman's capacity to imagine the mind and feelings of animals is concentrated in this essay and another in the same...
read more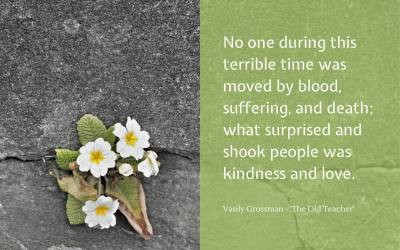 Grossman's war writing is interlaced with subtle and not so subtle pleas for individual kindness, small, humble, random, spontaneous, and free of corrupting ideological pieties. Here he comments on the habit people in war acquire for suffering, whether they are...
read more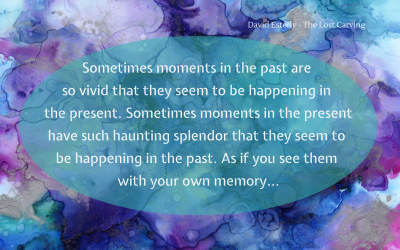 I like Esterly's skillful account of how the vividness of moments scrambles the natural order of past and present in our memories. Vividness can bring the past to the fore and make the present appear like a long-cherished memory even as it happens.This happens to me...
read more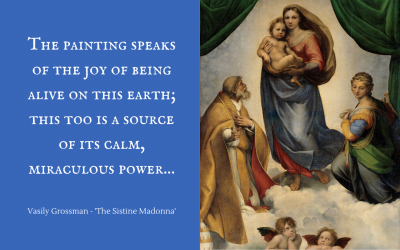 Grossman's essay on the Sistine Madonna by Raphael is one of the most splendid responses to art I have read. He deploys all his descriptive powers to encompass what it means to him and to us. Above all, it is a symbol of precious, tender, vulnerable, resilient life...
read more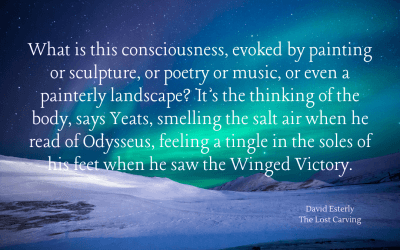 An unusual take on the physicality of our reactions to art or beauty, which Esterly attributes to Yeats as the 'thinking of the body'. I like the wholeness of it, the combination of mind and body in responding to something splendid, man-made or natural. 'What is this...
read more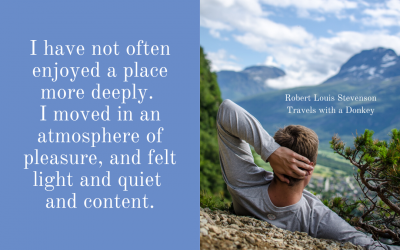 In the 1870s Robert Louis Stevenson ambled over a rocky bit of France helped and hindered by a donkey he came to love even while being frequently furious with her ornery stubbornness. Perhaps she thought the same of him. Here he relishes a moment of place-peace, and I...
read more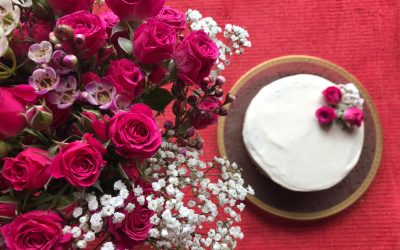 I recently celebrated a birthday. We drove into Geneva for a walk around the old town, stopping for hot chocolates and cakes here and there. Before we left, a friend and neighbour rang the bell to drop off a lace-crocheted initial she had made for me, the letter B...
read more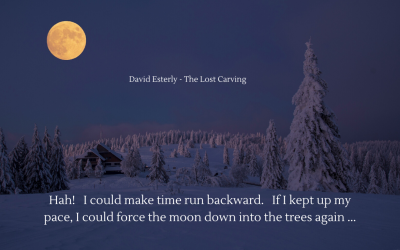 A marvelous moonlit moment when David Esterly was skiing to keep the moon in a fix spot, creating a parallax effect. He felt he was arresting time for a moment and luxuriated in its apparent suspension or even reverse. 'Hah! I could make time run backward. If I kept...
read more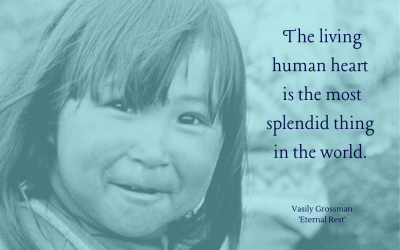 Vasily Grossman, who lived through and witnessed some of the vilest episodes of human history, never lost his belief in humanity as embodied in the smallness of an individual human being with quirks, dreams, longings and a capacity for love and kindness.He is, for me,...
read more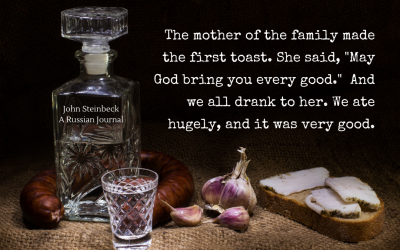 Hard to imagine a toast which encompasses more. This is John Steinbeck's description of the open-hearted hospitality he enjoyed, together with his friend the photographer Robert Capa, when they were invited to dine with ordinary people on their month-long trip to the...
read more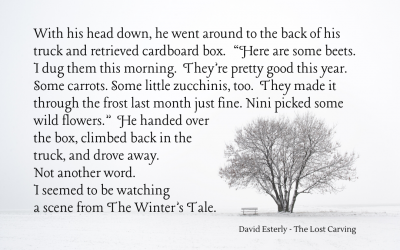 David Esterly describes an act of kindness in which the unspoken is heard in the spoken. His wife lost a close relative. A few days later a lifelong friend and neighbour pitched up with a box of garden-grown vegetables. He didn't mention the loss, only what was in the...
read more
Or if you'd like to get in touch ...
Copyright: www.nuannaarpoq.com – Beatrice Otto 2020 – design and content, all rights reserved.  
Colours & fonts chosen for aesthetic strength and because their names reflect the mission of nuannaarpoq.com.  Colours: menu, header & text box: Warm Welcome by Quete80   I   footer: Be Happy by OrendaWhisper.  Fonts: sans serif: Ubuntu   I   script: Spirit of Dance by Vera Holera   I   serif: Lustria